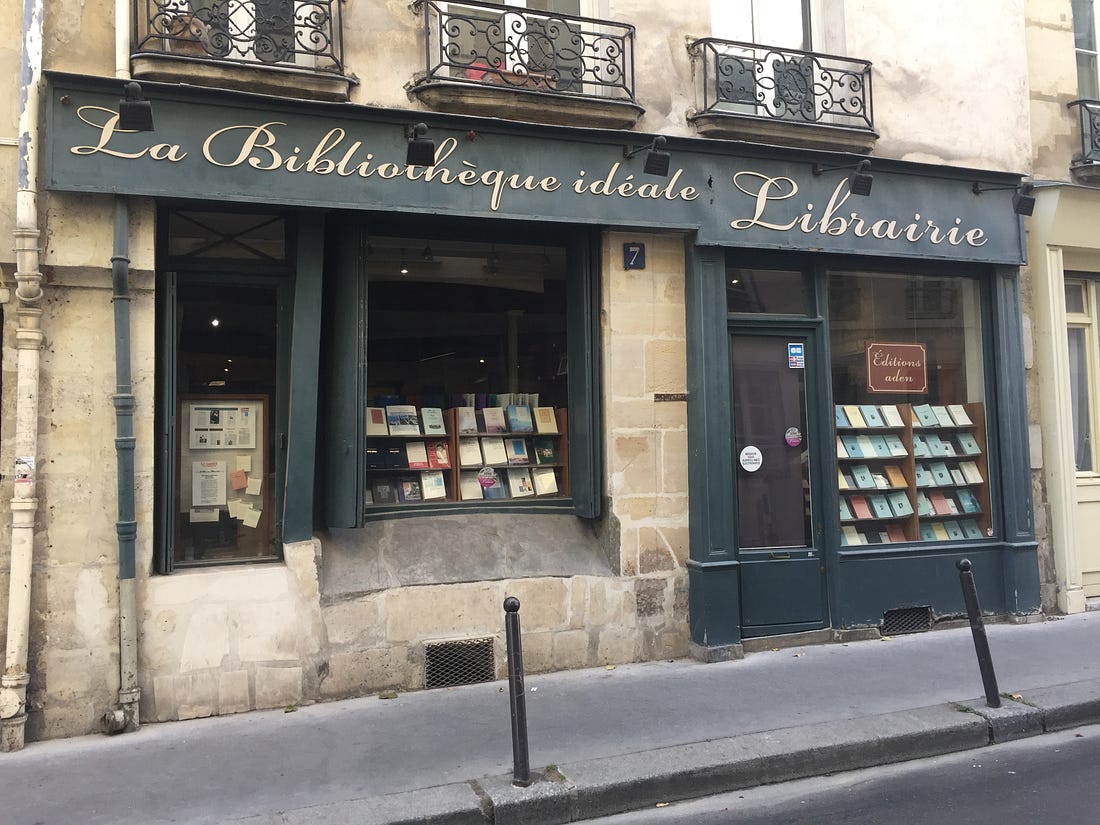 Often I daydream of a city awash in bookstores—not just in one or two neighborhoods, but emerging on the most unexpected streets and alleyways—bookstores with histories, some around for many decades, some dating back more than a century; in a few copiously stocked establishments, a huge range of books—popular, literary, scholarly, obscure—promiscuously sharing the same shelves; in other, smaller spaces, books meeting a multitude of specialized tastes and interests, acquainting you with the products of ever more esoteric publishers and the writings of authors perhaps unknown to you who here receive the veneration due to classics. With each step—each fresh book cover—you find yourself initiated not only into new releases but whole new fields of knowledge—or old fields of knowledge, in dimmer interiors where antique volumes fill every available bit of room, sometimes simply piled up on the floor as in someone's overcrowded apartment. When the daydream becomes too persistent, I figure it is time for Paris again.
Paris is many cities but for a reader it is most indelibly this city of bookstores. A full charting of them would uncover multiple enfolded realms of intellectual history. Since the time I had the good fortune to study there briefly as a teenager, Paris has been the place I had to keep going back to, simply to find out what is new, what has been coming out since the last visit, what fresh approaches have been tried, what unsuspected information has appeared on the table—and to find out as well what new retrievals have been made from a past apparently limitless in its capacity for redefinition. It seems almost inevitable that there will be another Alexandre Dumas novel rescued from oblivion, another addition to the canon of Marcel Schwob, another neglected libertine author of the sixteenth century, another crucial yet curiously unknown document of early modernism, another previously untranslated manuscript of Fernando Pessoa.
Always there is a sense of surprise, accompanied by the frustration of not having enough time—or, early and late, enough French, and enough different kinds of French—to take full advantage of the feast on display. There could be no greater inducement to sharpen one's skills. The profusion has seemed to embody what culture is supposed to mean, not just French culture but world culture, since one of the signal aspects of French publishing has been its restless curiosity about what is being written in other languages. In a fashion that puts the Anglophone world to shame, Parisian bookshops make available the works of Asian and European and African writers—as well as American writers unjustly ignored in their homeland. I remember years ago longingly contemplating French versions of romans noirs by hard-boiled Americans David Goodis and Jim Thompson that were at the time out of print in English.
Just scanning the titles of books spread out on the tables and shelves of, for example, La Hune—the bookstore that was patronized early on by Albert Camus, Simone de Beauvoir, and many others, and that for some fifty years exercised a radiant influence amid Café de Flore, Aux Deux Magots, and other legendary haunts of bohemian Saint-Germain-des-Près—provided an instant update on the emerging ideas and fascinations of the moment, whether in art or politics, ethnology or philosophy, cinema or poetry. La Hune means "the crow's-nest," and the perilously winding staircase connecting its two levels was itself an indication that to roam through the store was to participate in a voyage of reconnaissance. It was always my first stop in Paris. When it closed in 2012, replaced by a Louis Vuitton outlet, it seemed as if the end was at hand for a unique culture no longer resistant to the machinery of capital that had ravaged its counterparts elsewhere in the world. In fact it reopened around the corner a few years later, only to mutate into a more narrowly defined establishment specializing in photography books. The new venue, heavily damaged in a fire last year, seems now to have remade itself as a gallery. In the meantime the neighborhood's bookselling credentials are sustained by the spacious L'Écume des Pages (174 Boulevard Saint-Germain), whose stock ranges comprehensively across genres and disciplines, with a good selection of art, photography, and travel books, an ideal place to browse were it not that its top shelves soar beyond reach and almost beyond sight.
Parisians lament that the city's bookselling culture is not what it was, despite government policies that have helped shore it up, notably by restricting discounting. The inroads of Amazon and other on-line sellers cannot be kept altogether at bay—one need only watch Olivier Assayas's new film Non-Fiction (which opens in the U.S. in 2019), set in the publishing world, to gauge how the same inexorable forces, from digitization to declining readership, now afflict Europe as well as America. There is no question that the number of distinctive specialized bookshops in Paris has dwindled. Yet for a New Yorker who in recent decades has witnessed the swift decimation of the city's once glorious array of independent bookstores to a hardy few, Paris continues to dazzle with the range of its offerings. Not only are there many places to find books; you find different books in each of them.
Books seem to be everywhere, not only in bookstores, as if to underscore that Paris is in some sense the city of the book. A florist places two books in the center of a window display: Baudelaire's Les Fleurs du Mal and Les Paradis artificiels. The bouquinistes whose bookstalls line the Seine are a familiar postcard image, but it is still possible to come upon the out-of-print oddity you were looking for, whether a 1930s fashion magazine or a lurid true-crime periodical of the Belle Époque. In crowded little antique shops along Rue Notre Dame des Champs you can find, alongside ottomans and Art Deco lamps, choice clusters of gently used volumes of Gallimard's comprehensive series, the Bibliothèque de la Pléiade, whether your taste runs to the maxims of La Rochefoucauld or the nouveau roman experiments of Nathalie Sarraute. In one of these I was delighted to find the Pléiade's illustrated Album Balzac, before being informed that the asking price was 86 euros: "Everyone is always looking for the Album Balzac. It was the first in the series."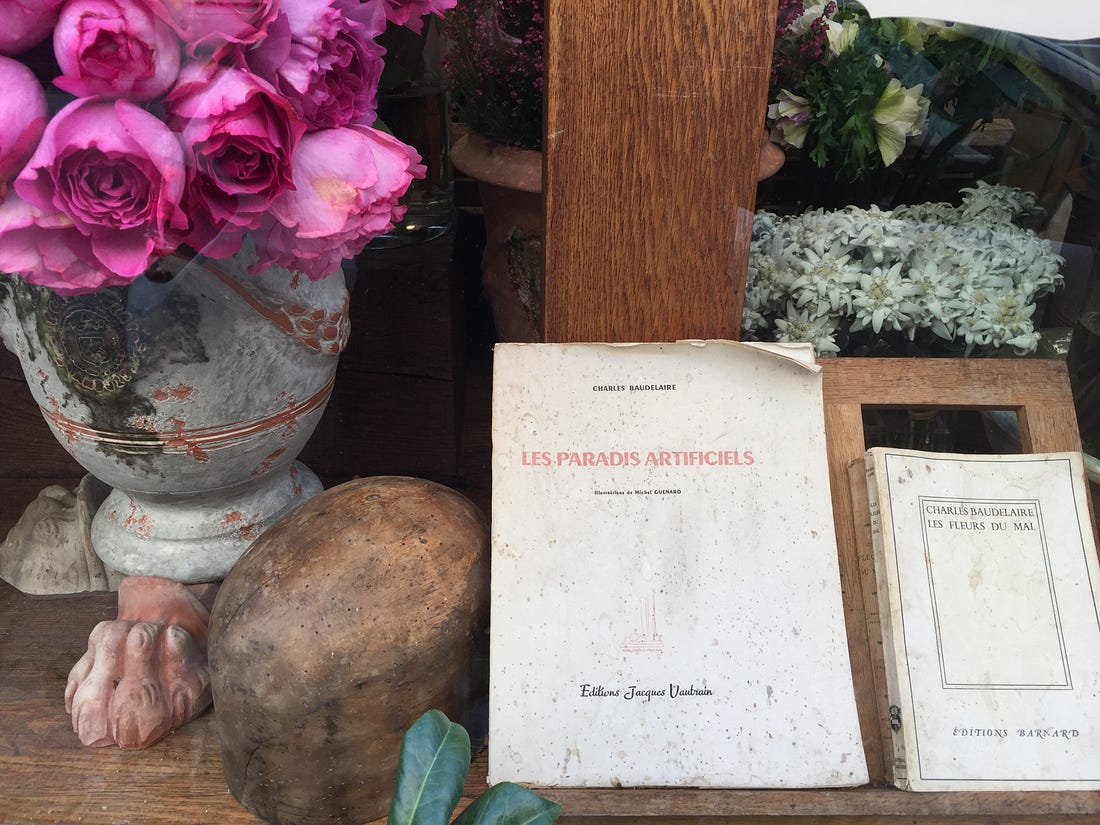 Large department stores like Galeries Lafayette and Bon Marché house book sections that anywhere else could be free-standing destinations—not to mention the third-floor book section of the cavernous FNAC (136 Rue de Rennes), which makes up for its lack of intimacy with the sheer quantity of its holdings. In the Marais, La Belle Hortense (31 Rue Vieille du Temple) is a "bar littéraire" where you can browse an elegantly tended selection of literary volumes while sampling the wine list. The lobby of the live theater-and-cinema complex Lucernaire features a stock of theater books; the gift shop of the Musée de l'Orangerie offers an abundance of recent books on art, photography, and film.