Discover more from Book Post
Bite-sized book reviews by distinguished and engaging writers, direct to readers' in boxes. Editor Ann Kjellberg is a multi-decade veteran of The New York Review of Books and founder of the literary magazine LIttle Star
Over 6,000 subscribers
Diary: Rebecca Chace travels to Wyoming with Gretel Ehrlich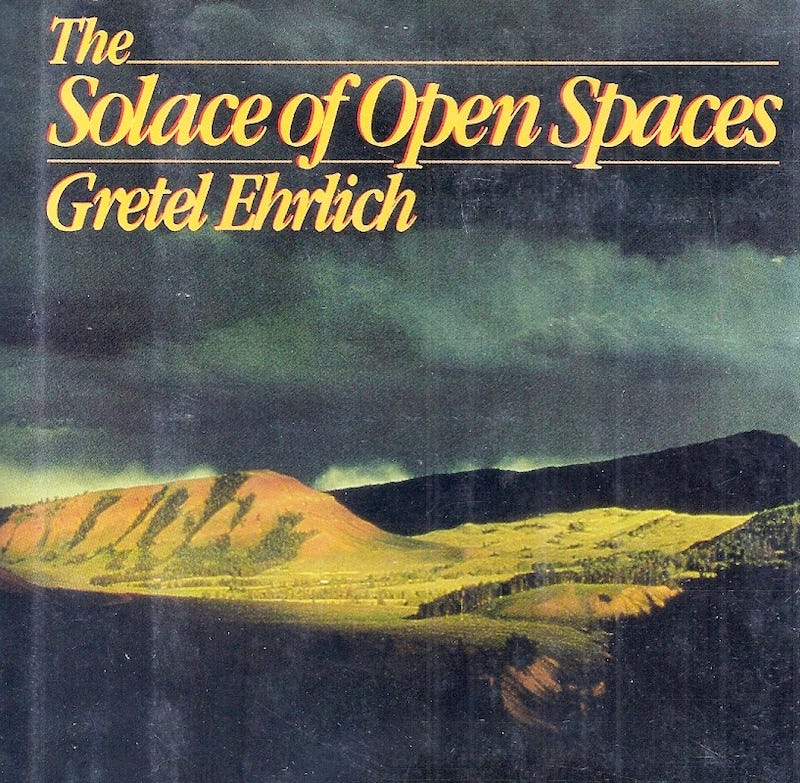 When I found myself in Wyoming for a month this autumn, I packed Gretel Ehrlich's The Solace of Open Spaces, wondering how it would read in 2019. Ehrlich arrived in the state in the mid-1970s, working on a PBS documentary about sheep herding. She then returned to become an unlikely shepherd herself, unmoored by the early death of her lover. The opening sentence puts us directly into the extreme physicality of this kind of work. "It's May and I've just awakened from a nap, curled against sagebrush the way my dog taught me to sleep—sheltered from the wind."
Walking in the valleys that spread out from the Bighorn Mountains, the wind is my constant companion. Eagles, magpies, and crows carry on their own conversations above me. Yesterday, I came across the nearly intact skeleton of a fawn, spread out on the grass like a cave painting. As Ehrlich writes, "Earth is instinct: perfect, irrational, semiotic."
It is Ehrlich's sentences that endure because of a stripped-down clarity that mirrors the landscape and taciturn nature of people who are accustomed to solitude. "I've spent hours riding to sheep camp at dawn in a pickup when nothing was said … Instead of talking, we seem to share one eye. Keenly observed, the world is transformed." Ehrlich creates intimacy by bringing us as close as a blade of grass, then pulling back to the perspective of an outsider groping her way through a personal crisis by noticing the world one detail at a time. She describes moving a herd of sheep over the range alone on horseback, with only her dog to help her. "Morning. Blue air comes ringed with coyotes. The ewes wake clearing their communal throats like old men. Lambs shake their flop-eared heads at leaves of grass, negotiating the blade … There's too much of everything here. I can't pace myself to it." But she does pace herself to it, the clarity of her task and harsh demands of physical labor and profound isolation lead her back to the world. She writes, "I threw away my clothes and bought new ones; I cut my hair. The arid country was a clean slate. Its absolute indifference steadied me."

Support the work of Book Post, receive our little book reviews, subscribe!
Recently: John Guare on Elaine Strich
Sarah Chayes on Amaryllis Fox
$5.99 for one month

This journey to the West, where we are tested to our limits and emerge newly forged, is a constant in American literature, but Ehrlich is more interested what's going on outside than within. Her book begins with a death and closes with a marriage, but Ehrlich resists the "marriage plot." Love stories are not the central passions of the book. This is a landscape and culture where the possibility of death is never far off. There is no pretense about the fact that the animals people risk their lives to protect are raised for slaughter. Ehrlich expects her reader to connect the dots.
The absolute indifference of nature includes its violence, but also creates room for silence in a time when our national conversation feels more like a shouting match. The locals here don't understand why I choose to live in New York City, and I'm afraid that every isolated farmhouse is In Cold Blood, but into that vast space between us rushes the world of geographical time. Ehrlich writes, "Space has a spiritual equivalent and can heal what is divided and burdensome in us." In Wyoming, the sudden flight of a golden eagle from a fence post makes all of us gasp, and a driver will pull over to close a stranger's gate by the side of the road, "so those cattle don't get loose."
In a world too often driven by the loudest voices, Ehrlich urges us to listen to the silences in our conversations and look closely at the world which tethers all of us. "The pastures bend into me; the water I ushered over hard ground becomes one drink of grass. Later in the year, feeding the bales of hay we've put up is a regurgitative act: thrown down from a high stack on chill days they break open in front of the horses like loaves of hot bread."
 This is not a love story, it is a love affair with a landscape which does what only poetry can, hone us down and leave us breathless, with eyes wide open.
---
Rebecca Chace is the author of two novels, Leaving Rock Harbor and Capture the Flag; a memoir, Chautauqua Summer; a children's book, June Sparrow and the Million Dollar Penny; as well as plays, screenplays and nonfiction essays.
Book Post is a by-subscription book review service, bringing short and well-made book reviews by distinguished and engaging writers direct to your in-box. Subscribe to our book reviews and support our writers and our effort to grow a common reading culture across a fractured media landscape. Coming up: Mona Simpson on Lewis Hyde, Jane Kramer on Simone de Beauvoir.
Mac's Backs Books on Coventry, in Cleveland, Ohio, is Book Post's current partner bookstore. We support independent bookselling by linking to independent bookstores and bringing you news of local book life as it happens in their aisles. We'll send a free three month subscription to any reader who spends more than $100 there during our partnership. Send your receipt to info@bookpostusa.com.

Follow us: Facebook, Twitter, Instagram
If you liked this piece, please share and tell the author with a "like"
Image: First edition of
The Solace of Open Spaces
, 1985