Review: Alexandra Lange on Disneyland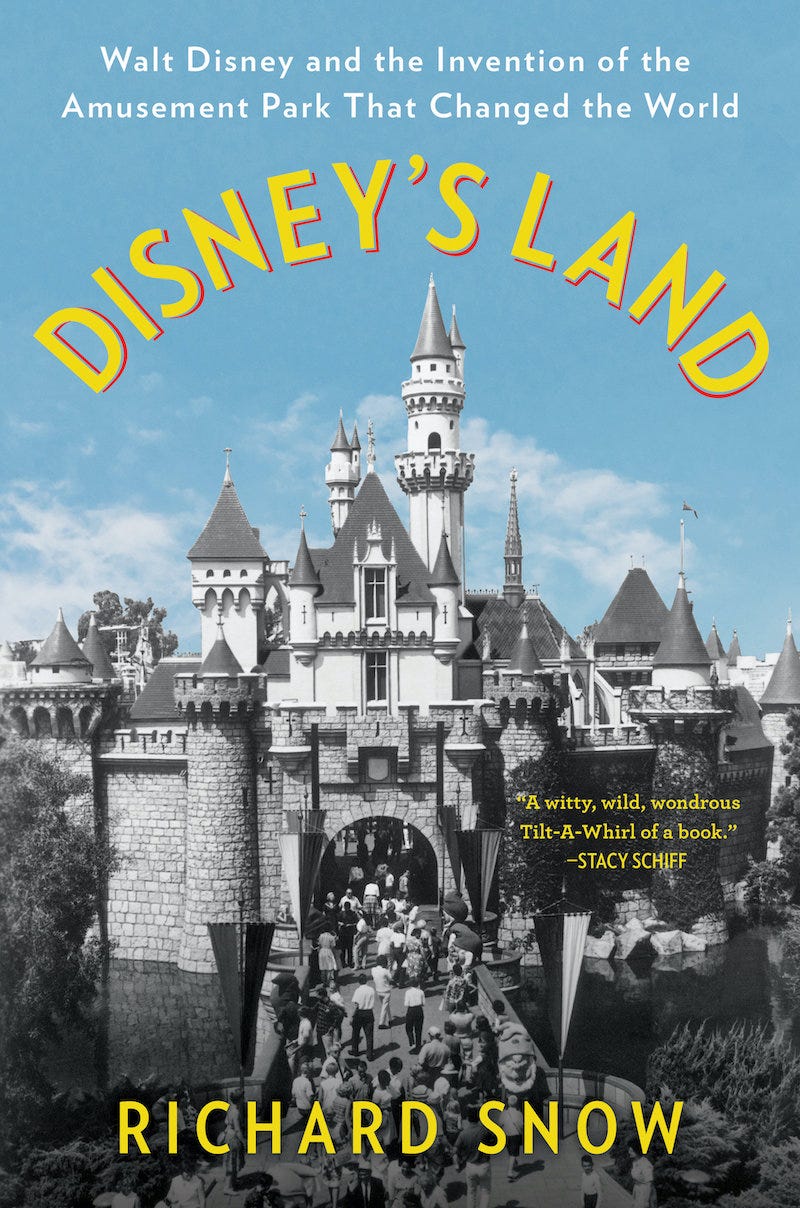 Disneyland's July 17, 1955 opening-day reviews were excoriating. H.W. Mooring of the Los Angeles Tidings wrote, "Walt's dream is a nightmare. I attended the so-called press premiere of Disneyland, a fiasco the like of which I cannot recall in thirty years of show life. To me, it felt like a giant cash register, clicking and clanging, as creatures of Disney magic came tumbling down from their lofty places in my daydreams …" Another headline called it "The $17 Million Dollar People Trap." There were children's tears. There were endless lines. There was bumper-to-bumper traffic.
In other words, just like any other day in the Magic Kingdom.
As one skips through Richard Snow's sprightly new history of the creation of Disneyland, one is constantly reminded of the human fallibility behind what now feels like an impenetrable entertainment juggernaut. It's because of Disney that my twelve-year-old knows what IP is. It's because of Disney that toys become TV become theme park rides. It's because of Disney that line managers say, "Following guest." Snow shows the reader what it took to open the gates to nostalgic Main Street, western Frontierland, watery Adventureland, storybook Fantasyland and never-finished Tomorrowland—and it took a lot, from hand-built rides to experiments in aluminum and Fiberglas, from hand-painted backdrops to Stanford Research Institute reports on the future growth of southern California.
As with Damien Chazelle's film First Man, which tried to make its audience aware of every nut, bolt and tear (of human and spacecraft) on the way to Neil Armstrong's now-heroic moon walk, Snow peels back the glossy "Be Our Guest" façade to reveal Walt Disney's comfort with risk. For a brand now associated with anodyne perfection—the park, Snow writes, seems to critics "a Circe's Isle that robs its visitors of free choice, saps their intelligence, and fools them about the essentials of life itself"—Disneyland's origins, like Walt Disney's own, come across as rather more homespun and well-intentioned.
Got a friend-relative-colleague who likes to read, or might like to read a little more?
Give the gift of Book Post!
Snow's energetic prose and quick passage through the biographical preliminaries are welcome, but as Disney's Land progresses he loses sight of the overarching narrative. What should be a tick-tock transforms into a grab bag. The book's chapters are short, focused on different parts of the large machine (literal and figurative) that would become the 160-acre park. I was fascinated to learn, for example, that Buzz Price and C.V. Wood, the Stanford Research Institute engineers Disney hired to help him select a site for his amusement park, ended up selecting Anaheim based on calculations of Los Angeles's center of population ten years in the future. As Snow correctly notes in a chapter wedged in at the end, urbanists have been learning from Disneyland since the day it opened. But after a while the parade of bright young men and their mechanical, engineering and plumbing problems becomes numbing.
While most of the interchangeable new characters Snow introduces are men, one woman stands out: landscape architect Ruth Shellhorn. Shellhorn was working for architect Welton Becket on Bullock's department stores when Disney emissaries approached her for help on the park. "Glimpsing a future in which shopping would become a brief vacation rather than a mundane chore, Shellhorn created a verdant little oasis full of shade and color" at Bullock's Pasadena store. While Disneyland's attractions had internal logic, Disney realized the park wouldn't work without a guiding intellect to shape the space between the icons. Every kingdom needs a landscape architect and Shellhorn, tough in the face of daily sexism from her immediate boss and the tradesmen on site, sprinkled the needed pixie dust.
Snow is at his best when he analyzes the way Disneyland has influenced culture beyond the initial idea of a kinder, cleaner amusement park. The 1950s, Snow writes, were an age of anxiety. Disney was trying to soothe those fears by making a land (and, eventually in Florida, a world) that was safe and well-maintained, a community amenity, with abundant benches and restrooms and a finishing school for park employees. "In designing Disneyland, we thought of the park as if it were a three-dimensional film," wrote creative director John Hench. "This was a new idea: we took the most basic needs of guests and turned them into attractions." It could evolve and grow … but only on Walt's terms, down to renaming customers "guests" and those employees "hosts and hostesses."
When a contemporary entertainment innovator like the Museum of Ice Cream's Maryellis Bunn says she wants to be the millennial Disney, it isn't the false fronts of Disneyland's Main Street that she's talking about but instead the idea of creative control over the real world, from human interactions to color schemes. This is the changing-the-world part of the book's subtitle, the complicated and compromised reality that Snow would have been smart to focus on. With fewer fun facts and more critique, Disney's Land could, and should, have drawn out the parallels to the present-day multimedia environment. The LA Tidings had it right in 1955. Giant cash registers and million-dollar people traps are still clicking and clanging. Critics continue to ask, Daydream or nightmare?
---
Alexandra Lange is the author of The Design of Childhood: How the Material World Shapes Independent Kids and is at work on a history of the shopping mall.
---
In case you missed it
On Thursday we felt thankful to be witness to a memorial service for Toni Morrison at St. John the Divine, and we offered a little report on that as well as the glittery National Book Awards ceremony, where good elves behind the scenes are making presents of books where you least expect it.
Book News
American bookselling is deeply dependent on holiday sales. By one estimate 25 percent of trade books are bought as presents and booksellers do $3 billion in business at the end of the year. The deep discounting that drives much early holiday retail is perilous for independent bookstores, publishers, and (consequently) authors, yet the pleasures of visiting a brick-and-mortar bookstore—the sense of shared occasion, of participating in a larger culture—are magnified during the holidays, and booksellers have become practiced in making the holiday selling season their own. For "Small Business Saturday" last weekend booksellers offered all sorts of enticements, notably many stores featured local authors behind the register. Authors, consider pitching in yourself next year! Bookseller-author Ann Patchett, celebrating retiring American Bookselling Association CEO Oren Teicher, noted at the National Book Awards ceremony that during his tenure he worked in a bookstore every Christmas: "this is a guy who knows how to sell a book." A couple of years ago Willard Williams of the Toadstool Bookshops in New Hampshire started hosting "Cider Monday" as a real-life alternative to Cyber Monday, inviting readers to come in for a cup of cider instead of shopping online and taking the occasion to extoll the benefits of local retail; the idea has now spread to a dozen or so bookshops around the country. Meanwhile shops also encouraged buyers to order books from an independent bookseller, if order they must, and to buy their audiobooks from indie-audio provider libro.fm, which offered a 4 for 1 #RealPeopleMonday promotion.
Political books continue to buoy the hardcover book market. Record-setting sales for Michelle Obama's memoir Becoming (still on hardcover bestseller lists) drove a good year for books in 2018, and we head into this holiday season with A Warning, by the author of a 2018 opinion piece by an anonymous White House staffer, bumping Donald J. Trump, Jr.'s Triggered, off the top slot on the New York Times list. A new book of essays by teen climate activist Greta Thunberg tops the Indiebound paperback nonfiction bestsellers.
For readers of our two tree-themed posts, Joy Williams on Richard Powers' The Overstory and John Banville on Robert Macfarlane's Underland, Powers recommends twenty-six other books about trees over at PBS and Macfarlane considers tree rights at The Guardian.
---
Book Post is a by-subscription book review service, bringing book reviews by distinguished and engaging writers direct to your in-box. Thank you for your subscription! As a subscriber you can read our full archive at bookpostusa.com. Please help us spread the word about Book Post: your subscriptions keep us going, supporting writers and books and reading across America. Coming soon: Mona Simpson on Lewis Hyde; Edward Mendelson on typography.
Mac's Backs Books on Coventry, in Cleveland, Ohio, is Book Post's autumn partner bookstore. Please buy your books from them this fall, an join us there on October 5 for the Heartland Fall Forum! We support independent bookselling by linking to independent bookstores and bringing you news of local book life as it happens in their aisles. We'll send a free three month subscription to any reader who spends more than $100 there during our partnership. Send your receipt to info@bookpostusa.com.

Follow us: Facebook, Twitter, Instagram
If you liked this piece, please share and tell the author with a "like"