Review: Allen Callahan, A Gospel of Peace in a Time of Violence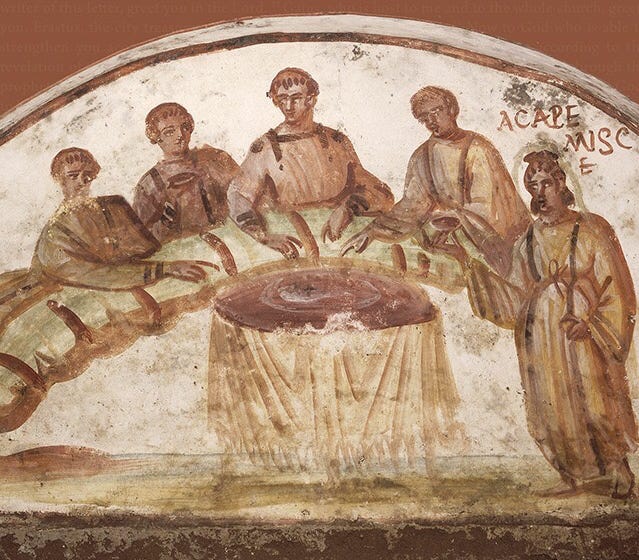 The subtitle of Scot McKnight's innovative commentary on the Apostle Paul's biblical Epistle to the Romans—"a gospel of peace in the midst of empire"—begs the question: Can there be a gospel of peace in the face of the violence, repression, and kleptocracy that empire not only authorizes but requires?
McKnight reads Paul as counseling his audience of early Christians in Rome to seek peace in the capital of an imperialist regime. He sees Paul's appeals in the first half of the letter for forgiveness and love of neighbor as qualified by references to the demands of the imperial state appearing in the letter's second half.
According to McKnight, Paul is attempting in his letter to reconcile two mutually hostile factions among the churches in first-century Rome. One faction insists that faith in Jesus as the Messiah of Israel requires observing the ancestral laws of Israel—the festivals, kosher rules, and ritual of circumcision of the Mosaic Law—while despising fellow believers who do not observe the Law as impious and licentious. The other faction, on the contrary, recognizes Jesus as Israel's Messiah but does not observe Israel's ancestral laws, despising those who do as hidebound and legalistic. Paul's various arguments are marshaled to show that the Gospel transcends the Law of Moses, and thus any basis for enmity between the factions.
Receive Book Post book reviews, exclusive to paying subscribers, and support our work.
Among our reviews:
Wyatt Mason on Bohumil Hrabal
Anakana Schofield on Vivian Gornick
$5.99 for one month
McKnight proposes that the historical context of Romans is the early years of the reign of the emperor Nero, who ended the citywide ban enacted by his predecessor against people who were causing "disturbances at the instigation of Chrestus" (read, "Christ"). It is such "disturbances," McKnight surmises, that Paul wants the believers in Rome now to forswear. Paul wants to scotch any drama in the Roman churches, so as not to attract unfavorable attention from imperial authorities.
This is why Paul counsels the Roman Christians not only to pursue peace (Romans 12:14-21) and to love their neighbors (13:8-10), but also, in one of his most infamous exhortations, to pay their taxes.
Let every person be subject to the governing authorities; for there is no authority except from God, and those authorities that exist have been instituted by God. Therefore whoever resists authority resists what God has appointed, and those who resist will incur judgment. For ... the authority does not bear the sword in vain! It is the servant of God to execute wrath on the wrongdoer. Therefore one must be subject ... For the same reason you also pay taxes, for the authorities are God's servants ...
These words were bad pro-state propaganda even before the ink in which they were written was dry. And they have only gotten worse with age. Martin Luther quoted them to incite a vicious crackdown on dissident peasants; they were a slogan for the apartheid regime in South Africa; and in 2018 Jeff Sessions cited them in support of the Trump Administration's policy of separating families at the border.
The Bible exhorts the subjection of slaves to their masters and wives to their husbands, exhortations that many humane Christians now read the way they read the Bible's story of Abraham's attempted sacrifice of his son Isaac: they recognize them as scripture even as they recoil from them in horror, and reject them as a basis for faith and practice. Recognizing the moment in which Paul's words are embedded, rather than exculpating him, invites us to read them with the same critical discernment.
And in the light of such discernment, the question remains: Can we allow ourselves to endorse, as the Apostle Paul apparently did and as McKnight apparently does, a message of peace for those living under an unjust order? As we watch authorities sanctifying injustice with Scripture and widespread protests insisting there can be no peace without justice, our answer must be no.
---
Allen Callahan is the author of The Talking Book: African Americans and the Bible, among other books.
---
Book notes
You, dear Book Post subscribers, do not need to be reminded of the value of supporting a vital critical response to books, but you can pat yourselves on the backs with a look at this call by the Author's Guild to keep books coverage going even as the covid crisis deals yet another lethal blow to journalism. As the Author's Guild notes, "with many other forms of arts and entertainment inaccessible for now, more people than ever are looking for good books to read," and "strong literary arts coverage not only benefits authors"—at a loss now for ways to advocate for their books—but "nourishes the entire literary ecosystem, including freelance reviewers, publishers, bookstores, libraries, literary agencies, editors, designers and everyone who contributes in one way or another to the world of books." "Book coverage in general has been on the chopping block year after year after year after year," critic Ilana Masad told the Huffington Post recently. "Culture is often one of the first things to go in these outlets. It's seen as somehow fluffy."
In a recent conversation, booksellers noted the difficulty of selling the sorts of less-obvious books they used to be able to promote with a strategic placement by the door or an enthusiastic recommendation. Readers who are ordering from home are dependent on information coming in from elsewhere. The upshot will likely be a further concentration of book sales in a few mega-bestsellers published by a few enormous publishing houses. (One notes also that, as emerged from the #PublishingPaidMe controversy about author advances and the arguments over the commercial immigration-themed novel American Dirt, smaller publishers have long carried a lot of the weight of diversifying the American reading list.) If we want the kind of fine-grained, complex, individual artistry called for in, for example, the recent Black Artists for Freedom letter, we cannot expect commercial corporate media to deliver it any time soon without a push from readers and a thriving bouquet of alternatives.
Meanwhile philanthropy took a giant step toward putting books in people's hands—and showed the wisdom of appointing a poet to leadership—when the Mellon Foundation, helmed by Elizabeth Alexander, announced a program to place books in a thousand US prisons. The reading list will be assembled by fellow poet and lawyer, Reginald Dwayne Betts. Betts has said his own experience of incarceration was transformed when he was given access to interlibrary loan; since his release he has published three books of poetry and is pursuing a doctorate in law at Yale. We've written before about the (to us) incomprehensible obstacles placed before reading in America's prisons, particularly when it comes to books that might offer opportunities to think critically about the system in which one is confined. In April, the PEN American Center published an open letter calling on the corporations that charge incarcerated people (by the minute!) to read ebooks to waive their fees during the coronavirus pandemic, which put an end to "in-person visits with family and friends … educational and recreational programming, access to prison libraries, and prison work programs," often confining incarcerated people in their cells to contain the spread of the virus. The logic of depriving such a person of a book escapes us. You can supplement Mellon Foundation's admirable effort by contributing to volunteer groups (here's one in New York and one in Seattle) that send free books to people in prison.
Speaking of open letters, if it's the sort of thing that interests you, and you have somehow missed this one, Harper's this week published an open letter signed by 150 very notable people under the banner of defending free speech and open debate. The letter was immediately questioned by observers who considered it a coded attack on—or at the very least insensitive to—recent calls to loosen the hold of a white elite on cultural expression. You can read about the controversy in The New York Times, The Washington Post, or The New Republic, or, perhaps most mesmerisingly, everywhere on Twitter. (Nearly simultaneously, the political philosopher Yascha Mounk announced a newsletter featuring many of the same people and advancing many of the same themes. We were jealous of his bells and whistles. If only we could rustle up some book clubs and podcasts. Our means are few.)
Book Post is a by-subscription book review service, bringing book reviews by distinguished and engaging writers direct to your in-box. Thank you for your subscription! As a subscriber you can read our full archive at bookpostusa.com. Please help us spread the word about Book Post: your subscriptions keep us going, supporting writers and books and reading across America.
Black Stone Bookstore and Cultural Center, in Ypsilanti, Michigain, is Book Post's current partner bookstore. We support independent bookselling by linking to independent bookstores and bringing you news of local book life as it happens in their aisles. (Read about our partnership here!) We'll send a free one-year subscription to any reader who spends more than $50 there during our partnership. Send your receipt to info@bookpostusa.com.

Follow us: Facebook, Twitter, Instagram
Image: Fresco depicting banquet scene (4th Century AD), Cimitero dei SS Marcellino e Pietro, Rome, Italy. Cover image from Reading Romans Backwards.