Review: Christopher Benfey on Mark Doty's Whitman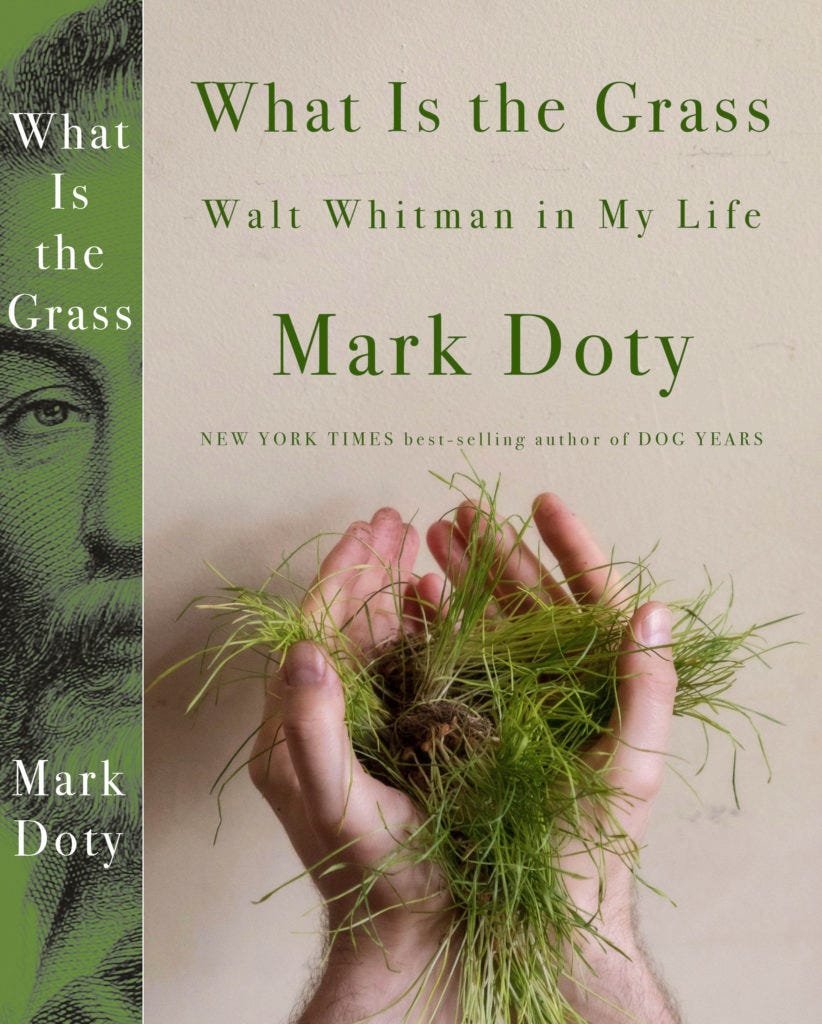 Of the three supremely odd figures—Walt Whitman, Emily Dickinson, and Herman Melville—whose voices (along with those prose-poets Abraham Lincoln and Frederick Douglass) still ring out to us from the social and political turmoil of the nineteenth century, Whitman can seem "the most at ease, the most pleased to be in human company," as the poet Mark Doty writes in his new book. "Do I contradict myself?" Whitman asks with his usual equanimity. "Very well then I contradict myself. / (I am large, I contain multitudes.)" In The Varieties of Religious Experience (1902), William James went so far as to consider Whitman the "supreme contemporary example" of "healthy-mindedness." According to James's slightly snide analysis, Whitman expressed sentiments solely "of the expansive order," seeking to persuade his readers "that men and women, life and death, and all things are divinely good." For a depressive like James, Whitman's "quasi-pathological" optimism seemed naïve at best. And when James lamented how Whitman "has infected" his followers "with his own love of comrades," we may suspect a little homophobia influencing his choice of verbs.
For all Whitman's vaunted sociability, however, Doty detects an "essential loneliness" in his poetry, an isolated "Me myself" at some remove from the boisterous camaraderie of characteristic lines like these: "I speak the password primeval … I give the sign of democracy; / By God! I will accept nothing which all cannot have their counterpart of on the same terms." Whitman can proclaim: "Unscrew the locks from the doors! / Unscrew the doors themselves from their jambs!" But why was he locked inside in the first place?
Doty's book seeks to explain an enduring mystery: the explosive appearance in 1855 of the first edition of Leaves of Grass, from a hack writer who had shown no previous brilliance, and who had no clear literary antecedents. "Where on earth did it come from?" Doty wonders. He identifies five main sources: an ecstatic mystical experience; a passionate embrace of gay sex; an immersion in modern city life; a deep drenching in the polyglot American language; and an abiding awareness of death. None of these is a new theme in the evergreen field of Whitman studies. But for Doty, the second source, to which he devotes well over a third of the book, is the most consequential, both for Whitman and for the subject named in Doty's subtitle: "Walt Whitman in My Life." When Whitman writes, "Blind loving wrestling touch! Sheathed hooded sharp-toothed touch! / Did it make you ache so, leaving me?" Doty has no doubt what he's talking about. "Drenched in eros," he writes, "Whitman's lines enact the ecstatic."
One might have thought that the war over Whitman's sexual identity was long won. Doty claims, nonetheless, that there is "a troop of Whitman biographers and scholars—as well as Whitman himself!—who will tell you Whitman was not queer." The sexual proclivities of Dickinson and Melville may still be up for grabs (though in both cases, the critical consensus is strongly trending toward queerness), but Whitman? While conceding that "whatever the dead did or did not do in bed is largely irrecoverable," Doty doggedly sets out to make the case. He invokes as evidence what he calls "the felt understanding of Whitman's gay readers," and pokes fun at Whitman's panicked denials when prodded by the English gay activist John Addington Symonds to confess his love for men. As Doty notes, Whitman "claimed, absurdly, to have fathered six children with a mistress in his twenties in Louisiana." Doty movingly describes his own sexual awakening (while weathering a teenage suicide attempt, an early marriage, and the AIDS crisis), with Leaves of Grass as a kind of erotic vade mecum, reminding us along the way that Bill Clinton gave the same book to Monica Lewinsky.
Subscribe & receive a little book review in your in-box. Recently:
Àlvaro Enrigue on Juan Carlos Onetti
Polina Barskova on Varlam Shalamov
$5.99 for one month
Just as there was a sudden explosion in Whitman's genius, there was, in Doty's view, an equally abrupt diminution, which he ascribes to Whitman's aspiration to be the Good Gray Poet for everyone rather than the "sexual radical" for his chosen male comrades. Whitman's best poems, he believes, were written between around 1855 and 1860: "Song of Myself," "The Sleepers," "Crossing Brooklyn Ferry," and "Out of the Cradle Endlessly Rocking." Thereafter, Whitman succumbed to respectability, repetition, and rhetorical slackness. The Civil War is barely mentioned in What Is the Grass, though Whitman heroically served as an unpaid nurse in the horrific Washington war hospitals and wrote the often very moving, though less sexually inflected, poems of Drum-Taps.
What I like best in Doty's book is not his sometimes windy pronouncements about Whitman's visionary expansiveness, or the occasional romance-novel phrasing of his own erotic memories ("Frank and I were both in attendance, one of those steamy nights, and the erotic flair that had previously flickered a bit became a full-fledged pyrotechnic event"). Such ecstasies are in sync with Doty's view of Whitman as a "maximalist": "Was there ever a poet less likely to sign on to the maxim that less is more?"
But it's the minimalist in Whitman that I love. So I treasure Doty's occasional forays into the minute particulars of Whitman's life and art, to which he accords some of the same attentiveness that he brought to still-life painting in his excellent book Still Life with Oysters and Lemon. He notes that Whitman's "abnormally large" brain was sent to the American Anthropometric Society, where it was dropped by a clumsy staffer and destroyed. He spins a fascinating chapter from a similarly luminous detail: that Bram Stoker, one of Whitman's many closeted admirers from the British Isles, based his Dracula character on Walt Whitman. Was Stoker's vampire, he wonders, the dark side of the insatiable desire for bodily contact?
Doty at his best is drawn to those verbal thickets in Whitman's poetry, that local bristling of word against word: "Echoes, ripples, and buzzed whispers …. loveroot, silkthread, crotch and vine." We can see why, struggling to adapt to the rigors of life as a Jesuit three thousand miles away, the poet Gerard Manley Hopkins, a lover of alliteration and Anglo-Saxon phrasing, discerned a kinship with Leaves of Grass. Another closeted British writer, Hopkins acknowledged "Walt Whitman's mind to be more like my own than any other man's living."
Yes, Whitman is expansive, cosmic, all-embracing, maximal. What could be more obvious? But what other poet wrote so movingly of the miniature, the microscopic, the overlooked?
I believe a leaf of grass is no less than the journey-work of the stars,
And the pismire is equally perfect, and a grain of sand, and the egg of the wren,
And the tree-toad is a chef-d'oeuvre for the highest,
And the running blackberry would adorn the parlors of heaven,
And the narrowest hinge in my hand puts to scorn all machinery.
The erotic, after all, partakes of the concrete particular: the hinge of the hand, the touch of the lips. And when Whitman writes, "I find I incorporate gneiss, coal, long-threaded moss, fruits, grains, esculent roots, / And am stucco'd with quadrupeds and birds all over," well, what more is there to say?
---
Christopher Benfey is a literary critic, teacher, poet, and scholar of nineteenth- and twentieth-century American literature. His most recent book, If: The Untold Story of Kipling's American Years, will be out this summer in paperback.
---
Book Notes
As Americans filled the streets in recent weeks to protest the deaths of George Floyd, Breonna Taylor, and Ahmaud Arbery, reverberations of the uprising swept through the world of books. Tracy Sherrod, editorial director of the multicultural imprint Amistad, put out a call to "turn the Bestseller List Black" "to demonstrate [the] power and clout" of black readers, writers, and publishing professionals. Indeed that week the New York Times nonfiction bestseller list emerged entirely occupied by books addressing racism, some new, some old, some scholarly, some polemical. Demand was so great that a few (books by Ibram X. Kendi, Robin DiAngelo, and Ijeoma Oluo) promptly sold out; the wave was credited with lifting book sales overall amidst a long-dreaded coronavirus slump. Calls to patronize black-owned bookstores (including our own spring partner Black Stone Book Store and Cultural Center, in Ypsilanti), led to a swamp of orders and a (to this reader) unseemly impatience on the part of customers so eager to undo their racism that they were compelled to bully black small-business owners. Roxbury, Massachusett's Frugal Bookstore told the Boston Globe that they were very grateful for the customers, amidst the uncertainties of the pandemic, but it was disheartening to receive "emails asking us to cancel orders and refund payments, criticisms about how slow we are and that we have poor customer service because we have not answered an email." They received 20,000 orders between May 31 and June 23. America's oldest black-owned bookstore, Marcus Books in Oakland, meanwhile met and surpassed their April fundraising goal, ensuring their recently-threatened survival.
Long-brewing calls to diversify America's still largely white literary institutions met with some convulsive action. The president and the chairman of the board of the lavishly endowed Poetry Foundation resigned as poets challenged the foundation's commitment to diversify staff and programs. A Twitter hashtag #PublishingPaidMe shed light on the discrepancies in publishers' (heretofor secret) financial commitments to work by white and non-white writers. 1,100 employees across book and media industries, mostly junior staffers, called a one-day strike to protest inequities in hiring and editorial decisions. (Candace McCarty-Williams and Mariah Stovall offered some insiders' perspectives on these inequities at work.) The board of the National Book Critics Circle fell apart while drafting a statement in support of writers and critics of color. Big-five Macmillan publisher (whose employees spearheaded the staffers' strike) replaced its CEO with a thirteen-member management board envisioned as "a different and more inclusive management team, representing a wider range of experiences." A pioneer of this movement, the organization We Need Diverse Books, announced ten internship grants to fund interns of different backgrounds working in publishing houses and literary agencies.
Amidst these calls for institutional change, another current, truly literary and artistic, also began to make itself felt, often emerging from artists who were also parents. Many writers began to comment on the trauma of being obliged repeatedly to witness horrifying acts of violence—the original acts themselves, and new ones against those protesting them—and the complementary impulse to create and promote art that dramatizes injustice. President Obama shared essays by Imani Perry ("Racism is Terrible, Blackness is Not") and poet Elizabeth Alexander, who wrote, "I worry about this generation of young black people and depression." "Black creativity emerges from long lines of innovative responses to the death and violence that plague our communities," she continued; she wanted to talk about how "to bring together the naturalistic and the visionary, to imagine community as capable of reanimating even its most hopeless and anesthetized members." Book Post's Emily Bernard wrote in The New Yorker of her house, where she strives "to keep the badness of the outside world out, and cultivate goodness inside these walls, decorated with a gallery of images meant to uphold and reinforce our family bond." Lisa Lucas, director of the National Book Foundation, organized a letter, released on Juneteenth, the celebration of Emancipation, signed by a thousand black cultural leaders, proclaiming their "freedom to represent, experiment, specify, complicate, signify, critique, ignore, improvise, and disagree about Blackness, on our own terms." These artists affirmed expression that goes beyond denouncing racism to reflect upon and nourish the black presence in American culture and American life. I remembered the memorial for Toni Morrison last fall, when writer after writer spoke to their astonishment when Morrison's work inscribed in the language some feature of their lived experience that they had never imagined seeing as a part of the nation's literature.
It has seemed to me that one thing feeding the outpouring of recent weeks is our as yet not fully absorbed grief at the colossal losses of the pandemic, and the harsh light they throw, as some of us sheltered at home and others of us risked their lives caring for those who sheltered, on the inequities imbedded in the most basic terms of our existence. Bring us social change, yes. But, thank you, artists, for not pausing, as we mourn, and atone, in the care of our souls.
Book Post is a by-subscription book review service, bringing book reviews by distinguished and engaging writers direct to your in-box. Subscribe to our book reviews and support our writers and our effort to grow a common reading culture across a fractured media landscape. Coming soon: Ian Frazier on lists; Joy Williams on Fernando Pessoa.
Black Stone Bookstore and Cultural Center, in Ypsilanti, Michigain, is Book Post's current partner bookstore. We support independent bookselling by linking to independent bookstores and bringing you news of local book life as it happens in their aisles. (Read about our partnership here!) We'll send a free one-year subscription to any reader who spends more than $50 there during our partnership. Send your receipt to info@bookpostusa.com.

Follow us: Facebook, Twitter, Instagram
If you liked this piece, please share and tell the author with a "like"!