Review: Mona Simpson on Lewis Hyde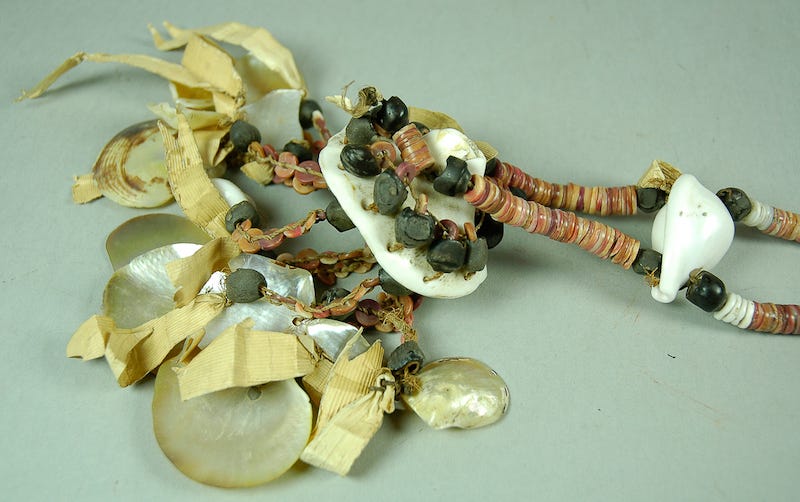 Image: Necklace of red shell discs with pendants of shell, seeds and palm fiber, which circulated in the "kula ring" first described for scholarship by Bronislaw Malinowski in 1922. The kula ring is a system of ceremonial exchange linking the Massim island communities off the northeast coast of New Guinea.
Pitt Rivers Museum, Oxford, UK
.
Lewis Hyde is the author of four books of nonfiction that are particularly hard to categorize. In his first one, The Gift, he uses folklore, contemporary studies of organ donation, Bronislaw Malinowski's observations of the Massim peoples, the practices of Alcoholics Anonymous, and an account of one family in an impoverished neighborhood to contrast the economies of gift-giving with a marketplace. He concludes that gifts are "female" property; "social work and soul work" as he calls it, is not a commodity and would never be undertaken only for compensation (we note the low salaries of ministers, teachers, artists, and caregivers). "Writing a poem, raising a child, developing a new calculus, resolving a neurosis, invention in all forms," these are labors people undertake as their own end. He refers to Emily Post's list of people for whom we throw showers: brides, expectant mothers, the new clergyman in town. The new rabbi receives a casserole while the new CEO of a software application startup does not. Gift exchange, Hyde argues, engenders relationships, debts of gratitude, whereas the marketplace leaves the buyer and seller in "the perfect freedom of strangers." He distinguishes between work driven by the will and work prompted by a call of the spirit, which he defines as "labor," and notes that this kind of effort follows its own schedule. (Though eventually a professor at Kenyon and a MacArthur fellow, Hyde labored over The Gift for years while working odd jobs and teaching fourth graders.)
The Gift has many implications for economy, art, and community, but I suspect that it has become a classic, steadily in print since its publication thirty-five years ago, because it is, as Margaret Atwood remarked, "the best book I know of for talented but unacknowledged creators." It is an immensely soothing book for people who work very hard at something they believe to be meaningful but earn far less than even the minimum wage for doing so. Beginning with the Massim's rules for passing along kula arm shells, Hyde ends up making an argument for karma. If Hyde did not exist in the small worlds of teachers, artists, and stay-at-home parents, we would have had to invent him. One year I ordered twenty copies for Christmas.
Hyde has continued to probe large ideas with his particular style of interdisciplinary synthesis. His second book, Trickster Makes This World, contends with the disruptions of appetite. The book begins on a characteristic note: "The first story I have to tell is not exactly true, but it isn't exactly false, either." His third book, Common as Air, is a manifesto in defense of the vanishing cultural commons, that vast storeroom of inherited ideas increasingly encroached upon, just as our public lands have been, by commercial interests.
Hyde's most recent book, A Primer for Forgetting: Getting Past the Past, questions the injunction to "never forget," one of the twentieth century's most cherished reductions. Here, Hyde remains as sprightly and contrarian as ever, and in fact the book is freer from argument than his previous books. He has done away with topic sentences, and his ruminations unfold in a series of small, evocative parables. "One thing I've always liked to read is the kind of literature you find in Jung and Freud, which combines personal anecdote, philosophy, mythology, dreams," he once told a New York Times Magazine reporter. "I like the way it jumps from one discursive realm to another." In this book, there is a lot of jumping about.
He quotes Elizabeth Bishop on the necessity of banishing memory in order to coax chance (or the unconscious) to enter composition. "What one seems to want in art, in experiencing it, is the same thing that is necessary for its creation," writes Bishop, "a self-forgetful, perfectly useless concentration." He recalls a remark the painter Philip Guston attributed to John Cage: "When you start working, everybody is in your studio—the past, your friends, enemies, the art world, and above all, your own ideas—all are there. But as you continue painting, they start leaving, one by one, and you are left completely alone. Then, if you're lucky, even you leave."
He quotes a long 2017 Facebook post by the Navajo activist, artist, and ceremonial leader Woman Stands Shining at odds with "never forget." To cure herself of serial depressions, the activist worked with a shamanic healer. Eventually, she addressed her ancestors, asking to be released. "We would love them always, and forever, but … somehow we must forget, or let go of, all of the violence that had come before now, or we ourselves would complete the job of genocide that the US government began. I begged them, my ancestors, to let us go free." Hyde questions his own grandmother's preoccupation with genealogy: in the 1930s she published a book called The Descendants of Andrew Hyde that memorializes William Hyde (who apparently came to the colonies in 1633) but "forgets 2,047 other ancestors including William's wife." Hyde sides with Foucault, who distrusts the "analysis of descent" and only "studies the self to forget the self." He quotes Ralph Waldo Emerson on the death of his young wife: "Teach me I am forgotten by the dead / And that the dead is by herself forgot." Emerson "wanted to live again," Hyde writes. (Hyde doesn't mention that in his anguish Emerson actually disinterred his wife's body, a shock that perhaps helped cure his obsessive grieving.)
Would you like to get a review from Book Post in your in-box every few days?
Subscribe for $5.99 a month, $45 a year
We support books & bookselling, writers & writing, for the digital age
The matter of what the living owe their dead haunts any discussion of forgetting. Even if we grant that forgetfulness allows freedom and renewal (Emerson went to Europe after mourning his wife), does it also serve justice?
"Forget as soon as possible," admonished an Italian newspaper the day that Hitler died. In Germany, in 1949, Konrad Adenauer, the freshly elected chancellor, declared his government resolved "to put the past behind us." Hyde quotes Tony Judt (whose book Postwar contains these examples): "Without such collective amnesia, Europe's astonishing post-war recovery would not have been possible." Hyde considers the blanket amnesty law Spain adopted after the 1975 death of Franco, which lasted until Chilean dictator Augusto Pinochet (the only head of state to have attended Franco's funeral) was arrested and extradited to Spain, spurring the recovery of Spain's own historical memory. Hyde quotes Tim O'Brien, author of the Vietnam novel The Things They Carried, regarding the familiar injunction that without understanding our past, both individually and collectively, we will be doomed to repeat it: "You can tell a true war story by the way it never seems to end."
We are to forget the past, Hyde seems to say, but only after contending with it. Just as he modelled practices of gift-giving for a different kind of economy, he establishes practices for forgetting. One—a person, a community, a nation—must recover memory, and sit with it, in order to forget it right. In The Gift, Hyde noted that the majority of kidney donors volunteer as soon as they hear of the need, remarking that "instantaneous decision is a mark of emotional and moral life." It is also a mark of youth. In that book, he writes about larky transformations. A Primer for Forgetting: Getting Past the Past is a darker book; Hyde tells story after parabolic story about people involved in deep, long contentions with the afterlife of cruelty who are finally able set these memories down and continue on into their own—perhaps more lighthearted—futures, whatever is left of them.
---
Mona Simpson is the author of six novels, most recently Casebook.
---
Book notes
The Mellon Foundation announced this week that it is granting the Academy of American Poets $4.5 million in support of poets laureate positions across the country in what the Academy is calling "the largest grant ever made by a philanthropic institution to support poets in the U.S." In his new book From Our Land to Our Land, Mexican-American poet Luis J. Rodriguez describes some of the things he did as poet laureate of Los Angeles in 2014-2016:
• Blogged for the LA public library and read poems at forty out of the forty libraries inviting him to read (he had been asked to choose two);
• Shared poems with the LA City Council;
• Read at the Watts Towers Jazz Festival, the Get Lit Players' Poetic Convergence Festival, and Da Poetry Lounge (with Kamau Daoud), among a bunch of  literary and cultural festivals in English and Spanish;
• Read poems on the radio and TV in English and Spanish;
• Participated in LA's Big Read;
• Contributed a "Love Poem to LA" to a film by John F. Cantú and three poems to the Bowery Poetry Club's "People's State of the Union";
• Spoke at the Claremont School of Theology;
• Read a poem in the Nahutl language for the National Endangered Languages gathering;
• Met with incarcerated young people and students whose parents were in prison;
• Gave high-school graduation speeches, including one to students of one of the Augustus Hawkins academies in South LA, a school practicing restorative justice in a high-crime neighborhood;
• Collaborated on publishing an anthology of Los Angeles poetry.
He writes, "I'll venture to say that in two years I spoke directly to more than twenty-five thousand people, and millions more via TV, radio, the Internet, and print media."
One hundred and thirty-eight writers signed a letter to Oprah Winfrey asking her to rescind her book club offer to the immigration thriller American Dirt; the book's publishers Flatiron Press responded to criticism (which we considered in our Book Notes last week) that the book is exploitive and insensitive; critic Laura Miller interviewed many publishing insiders for Slate on how the publishing industry is responding to the book's reception. In a related note, a recent survey by children's book publisher Lee & Low Books found that since its baseline survey in 2015, only 3 percent fewer respondents (76 percent) of publishing employees identify themselves as white. Earlier this month Pakistani military intelligence operatives raided the Urdu publisher of Mohammed Hanif's satirical novel, A Case of Exploding Mangoes, confiscated two hundred and fifty copies, and demanded information about booksellers who were selling the book, which can no longer be found in stores. The Maryland State Library recently gave its prison system a $100,000 grant to buy books, in welcome contrast to recent reports of restrictions on reading opportunities for prisoners. Emily Ramshaw and Amanda Zamora, formerly of the Texas Tribune, are starting a nonprofit news organization called the 19th (for the amendment) dedicated to women and politics.
---
Book Post is a by-subscription book review service, bringing book reviews by distinguished and engaging writers direct to your in-box. Subscribe to our book reviews and support our writers and our effort to grow a common reading culture across a fractured media landscape. Coming up: Jane Kramer on Simone de Beauvoir, Àlvaro Enrigue on Samantha Schweblin.
Mac's Backs Books on Coventry, in Cleveland, Ohio, is Book Post's current partner bookstore. We support independent bookselling by linking to independent bookstores and bringing you news of local book life as it happens in their aisles. We'll send a free three month subscription to any reader who spends more than $100 there during our partnership. Send your receipt to info@bookpostusa.com.

Follow us: Facebook, Twitter, Instagram
If you liked this piece, please share and tell the author with a "like"