Review: Robert Karron on Ducks, Newburyport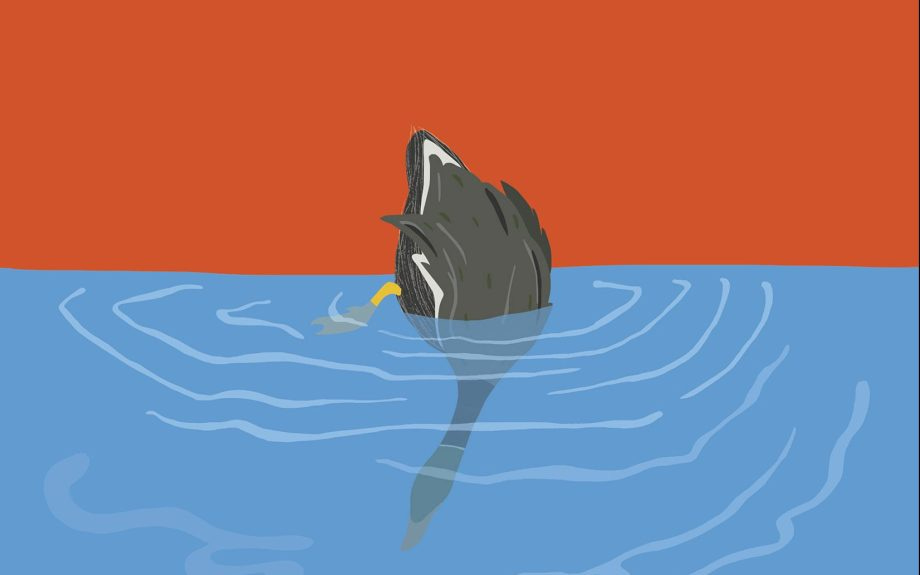 Lucy Ellmann has written seven novels, all of them experimental. She seems to think that the world is too strange, and too messy, to fit inside a traditional structure. The biographical note on the back of her latest book, Ducks, Newburyport, states that she "abhors standard ways of teaching Creative Writing, which she considers mostly criminal." In a recent interview, she said that "fiction is like a rock that sits there in your way. How do you break a rock? You give it everything you've got."
In writing Ducks, Ellmann has drawn on perhaps the most famous of all experimental novels—James Joyce's Ulysses, which ends with a long soliloquy by the main character's wife, Molly, that has, over forty-five pages, no punctuation. Ellmann's book is Ulysses, but all from Molly. Her unnamed narrator, a forty-something mother of four and a professional, stay-at-home pie baker living in Ohio, tells us, over the course of several days—and more than a thousand pages—what she's thinking, at every moment, from how to make a pie, to how her mother's death affected her, to how she thinks that Meryl Streep's character in It's Complicated should really end up with Alec Baldwin's character rather than Steve Martin's. Like Molly's soliloquy, Ellmann's narrator's has no periods, except for one, at the end. That is to say, this thousand-page novel is, for the most part, one sentence long.
Lucy Ellmann is the daughter of Richard Ellmann, an eminent Joyce biographer, and Mary Ellmann, feminist literary theorist who was born in Newburyport, Massachusetts. The homage to Ulysses in Ducks is unmistakable; the homage to Mary Ellmann seems equally unmistakable, in the book's title and in several references to the narrator's dead mother, whom she misses terribly. Ducks's narrator, a modest, prudish, conscientious Midwesterner, is very different from the narrators of Ellman's previous works, who were all sarcastic, bawdy, flippant, obsessed with sex, and irreverent. She allows Ellmann to give voice to subjects her earlier narrators may have rolled their eyes at: family, nostalgia for better times, misgivings about past decisions, hopes for a brighter future, the American Dream, a belief in decency. Ellmann, a Midwesterner herself until age thirteen, when she moved, with her famous parents, to England, now lives in Scotland. Three thousand miles, six short novels, and fifty years, it seems, is what it takes to gain an adequate perspective on America.
To be fair, Ducks, Newburyport is not really one sentence long. The narrator does not speak in complete sentences:
the fact that I can finally box up the cinnamon rolls now, so we're in good shape here, made in the shade, homemade, pomade, parade, the fact that everything always seems to work out for Babar, and maybe it's true, maybe things can work out okay, sourpuss, sour pickles

It goes on like that—clause after clause—for most of the book; "the fact that" is repeated in almost every line. You feel that she's building her case, to prove something, but what exactly remains (for a while, at least) unclear. There's a fast, declarative quality to her speech that, along with frequent alliteration and free association, make the book zip along. At 1,034 pages, it might be hard to hold on to, but it is not hard to read. Ellmann shows us how a person thinks when she is living in a twenty-four-hour news cycle, when she has access not only to her memories and thoughts but also to information popping up on her browser screen or heard on NPR. She can think about her pie-baking business:
the fact that Peekaboo now owe me for twenty-two pies and I don't know if I should make any more for them until they pay up, the fact that they don't like dealing with cash there, so I always have to keep checking my bank account to see if the money's gone in yet, but it never has, or hardly ever
And then a minute later, in the same sequence, she can think about how racism and violence are tearing the country apart:
but we live in a country where the parents of murdered children are sent death threats, and a black man walking around with no clothes on is gunned down by the police, "We thought he was armed."
At one point she tells us that she's small and has "bony hips," but that's not what we see when we listen to her. We see a mind—being pulled forward by one thought, shoved to the side by another, brought down by another. Ellmann has created a character without using conventional character traits. Her main characteristic is her distractedness—her inability to stay focused on a topic for more than a page. She knows a lot, but she's constantly drawn away from the subject at hand. She has a restless energy that's winning, but, also, because it seems uncontrollable, alarming. She can't slow down, let alone stop. She's driven but in no particular direction.
Support our work:
Subscribe to receive a little book review every few days in your in-box
Or receive our free updates
At several points in the novel Ellmann moves away from the narrator's thoughts to describe the days of another mother who is caring for her children: a lioness. This subplot, told in complete sentences, separate paragraphs, and two to three pages at a time, takes up only one or two percent of the book, but it provides a striking counterbalance to the world as described by our narrator. Breaking free from the constraints of her narrator's shiftings and perseverations, Ellmann treats us to prose that is lush in ways declarative statements can't be:
Beneath the gleaming hips of birches, beside the meandering stream made high by recent rains, they wrestled … Restored to his feet, but still freezing, the sodden cub stiffly shook himself, and at that the other kittens backed away, unsure.
Like Ellmann's use of "the fact that," it's unclear, for a while, at least, what she is up to with this subplot, except to show us that other animals don't get distracted the way we homo sapiens seem to.
Eventually it becomes clear that "the fact that" is indeed proving something—that the narrator's world is broken. She is compiling fact after fact in order to show this to us. She is distracted by random thoughts not only because she has access to the Internet but because she's afraid. On every other page of this book there is a reference to an environmental calamity or to an act of violence. The narrator is trapped. That's why her thoughts are so jumbled, on pages that offer no paragraph breaks—no indents, no agency for her to make a dent in her world. She has nowhere to go but in.
In this way, the narrator of Ducks is less like Molly Bloom, who keeps saying Yes, and more like the character Molly is based on, Penelope—the wife of Odysseus—who is stuck at home, waiting for Odysseus to return. Outside Penelope's door lurks a crowd of hungry "suitors" who are all after her. To appease them, she promises she'll marry one as soon as she finishes sewing a burial shroud for Odysseus's father, Laertes. At night, as the men sleep, she partly undoes her day's work; in this way, she bides her time.
Ducks is a work of fiction, and fiction is something that Ellmann clearly prizes. One senses, though, that, partly owing to her frustrations with standard novel forms, and also owing to her frustrations with the current state of the world, she's also drawn, these days, to "facts." The fact that "the fact that" is repeated so many times in what must be the longest fictional work to be published in the United States in the last ten years is beyond ironical. Does the melange that emerges from the narrator's fragmentary encounter with the world challenge the reader too much to drive home her point?
Ellmann herself seems to address this question in her many references to perhaps the most famous book about Ohio, Winesburg, Ohio, by Sherwood Anderson. Much admired by twenty-year-old up-and-comer Ernest Hemingway, Winesburg, Ohio is a series of short stories about odd, troubled characters living in a small, rural town. Most of the stories are fewer than ten pages long, representing only one or two characters. A narrator describes the story of the town doctor in "Paper Pills" as "delicious, like the twisted little … gnarled apples that the pickers have rejected … [because] into a little round place at the side of the apple has been gathered all of its sweetness." This also serves as a description of the characters in Winesburg, or, as that book's narrator calls them, "grotesques"—the different flavors of human experience have been packed tightly into each one.
The narrator of Ducks, Newburyport refers to these "twisted, little … gnarled apples" several times, and, each time, she says something derogatory about them. When one of her apple pies doesn't turn out the way she wants it to, she says "the apples [are] all dried out and shrinking away from each other like the shriveled little apples in Winesburg, Ohio, the fact that they should be all plump and nudging against each other."
"Plump and nudging against each other"—that's Ducks. Sentences against sentences, paragraphs against paragraphs, and thoughts against thoughts. All crammed into a book that while perhaps not stately is definitely plump.
Maybe the stories that we've been telling ourselves for so long are "dried out." Maybe our times require books that give us more, not less—that give us the large, sprawling messes, and not, like Winesburg, Ohio, curated miniatures; that give us the impassioned rants and not paragraphs, sentences, and scenes.
Toward the end of the novel, one of its several seemingly random intrusions emerges as a distinct threat, and the novel organizes itself for a moment into a story, with the narrator's daughter Stacy rescuing the family like the returning Ulysses taking on the menacing suitors. By ending the novel with a heroic act, Ellmann wants to remind us that we can still take action and be of help; Stacy's deed is Ellmann's "Yes." The ending doesn't blunt the book's main idea, though: Despite our best intentions, we've messed things up for so long now that any actions we take, no matter how decisive, or how righteous, will likely be subsumed in a torrent of facts that began before we got here, and that only continues to grow.
---
Robert Karron is a writer in Los Angeles.
---
Book notes
Twitter reacted with glee last week to the spectacle of education secretary Betsy DeVos appearing to the nation before a bookshelf without any books on it. The opportunity to scrutinize the libraries of the notable has been one of the rare treats of the lockdown era; bookshelves are staples in the diet of the Twitter snarkist Rate My Skype Room (and its specialized cousin Bookcase Credibility). Early on Gal Beckerman in The New York Times took note of Cate Blanchett's hovering Oxford English Dictionary, prompting Amanda Hess, also in the Times, to question the sincerity of celebrity bookshelves. Over at Town and Country, bookseller Thatcher Wine took the design-snob approach almost to sort-by-color levels of superficiality, mocking Stanley Tucci's cookbooks for looking like they're actually in use. Across the pond The Guardian mostly confined its bookshelf snooping to the political press, while JStor Daily reminded us that the "bookshelf flex" did not begin with pandemic Zoom. Dana Rubinstein thought to call up Robert Caro, author of the epic Robert Moses biography The Power Broker, to give him the opportunity to bask a little in the book's frequent appearance over the shoulders of New York City's journalists and politicians. Erroll Louis, host of the local "Inside City Hall," admitted to bringing it into the frame on purpose: "It got to feel like there was a little code or signal being sent. I'm enough of a fan of this book and this author, if there's a club involving this book, I need to be a member of it." We note that the paperback appears to be out of stock. Coincidence?
If you worry that your own bookshelf will not stand up to such scrutiny, never fear! You can now virtually implant yourself in an independent bookstore or a great public library (this is just one of several, e. g.) when you venture into the ether, making a pro-book statement while concealing your quarantine disarray.
Book Post is a by-subscription book review service, bringing book reviews by distinguished and engaging writers direct to your in-box. Thank you for your subscription! As a subscriber you can read our full archive at bookpostusa.com. Please help us spread the word about Book Post: your subscriptions keep us going, supporting writers and books and reading across America.
Black Stone Bookstore and Cultural Center, in Ypsilanti, Michigain, is Book Post's current partner bookstore. We support independent bookselling by linking to independent bookstores and bringing you news of local book life as it happens in their aisles. (Read about our partnership here!) We'll send a free one-year subscription to any reader who spends more than $50 there during our partnership. Send your receipt to info@bookpostusa.com.

Follow us: Facebook, Twitter, Instagram
Image: From the cover of Ducks, Newburyport by Lucy Ellmann