Discover more from Book Post
Bite-sized book reviews by distinguished and engaging writers, direct to readers' in boxes. Editor Ann Kjellberg is a multi-decade veteran of The New York Review of Books and founder of the literary magazine LIttle Star
Over 6,000 subscribers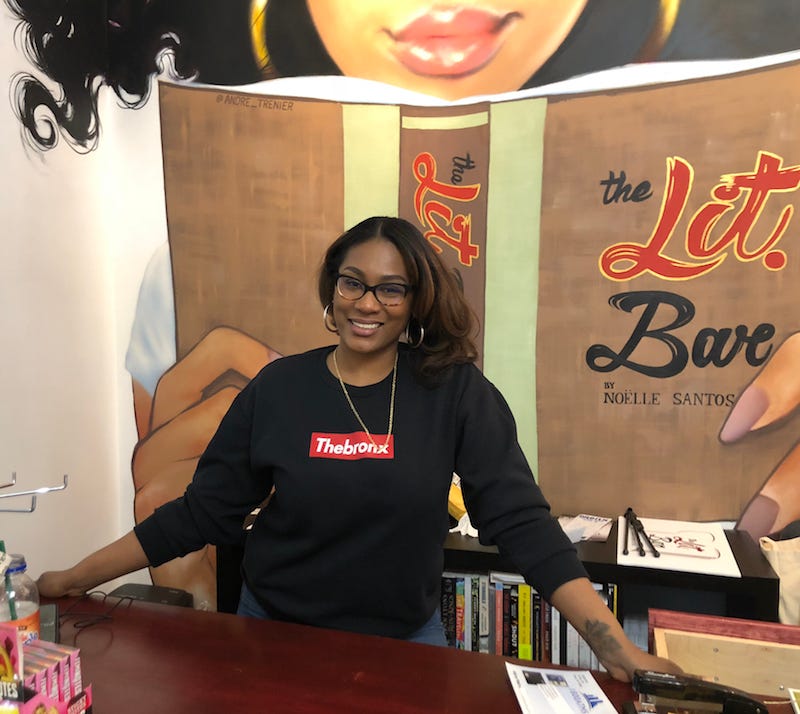 She's ready! Noëlle Santos wrapping things up at the Lit Bar
A couple of days ago I walked down the hill from the 138th Street stop on the 6 train in the Bronx to see if I could meet Noëlle Santos and have a look at her labor of love, soon to be the Bronx's sole independent bookstore, the Lit Bar. The contact page on the Lit Bar's web site said they are finishing setting up shop but passersby "are welcome to chat with us and shop books & merch should you catch us hard at work." And so they were!
Noëlle, a Bronx native, had a job in human resources on Wall Street when, in 2014, the borough's only Barnes and Noble, in the Bay Plaza mall, was threatened with closure—not because, like other Barnes and Nobles', business was bad—the place was by all accounts thriving, in spite of the fact, Noëlle notes, that it was nearly inaccessible by subway—but because of a rent hike. The store had itself had opened in 1999 after a years-long local effort led by former Assemblymember Stephen B. Kaufman, complaining of having to leave the borough to buy a book. (Barnes and Noble CEO Leonard Riggio responded to Kaufman's "Barnes & Ignoble" petition with characteristic sass: "Do you think that this Bronx-born native New Yorker needs you to tell him how great the Bronx is? Just wondering!" But Riggio's borough-pride didn't seem sufficient impetus to open a store.) Noëlle signed an online petition posted by another take-charge (woman) Bronx reader, Amelia Zaino, a twenty-four-year-old graduate student at Lehman College who grew up in Co-op City (this is "an insult to me as a Bronxite," said Zaino), and got to thinking.
"I used to be one of those people that measured their success by how far they could get away," Noëlle remembers. "As soon as you get your education and get your degree, you look for better quality of life." But when she processed the implications of the Bronx, a borough of 1.4 million people, bigger than many small countries, the poorest borough in the city, one of the poorest counties in the country, yet home to ten colleges and universities and boasting a mighty cultural comet-tail (Edgar Allan Poe to James Baldwin to hip-hop), becoming nearly bookstoreless, she said, "Look, I can't leave. I've got to stay here and bring books to the Bronx."
She formulated a proposal for the Lit Bar, a bookstore and gathering place and wine bar, submitted it to a CitiBank-funded New York Public Library startup competition, won a $7,500 grant, and followed that up with a $150,000 crowdfunding campaign. She attended a weeklong intensive seminar in Florida and interned in bookstores around the city—all while holding down a full-time job. She told Forbes's Elisa Doucette:
I'm pretty young, and I'm definitely young for this industry. I'm black, and I'm Latina, and I'm a woman, and I'm from the South Bronx. I have to run 10 times faster than everybody else just to be taken seriously. So, I needed everything I possibly could. I had to make sure my credit score was perfect while others were good. I had to make sure I won that competition. I had to make sure I had experience. Before all that, I couldn't even get property owners to show me space in the South Bronx and banks wouldn't talk to me about a loan.
Even with all that, the process of executing the project, down to securing an awning permit and getting the trash taken away, has been excrutiating and riddled with obstacles. She described in a 2017 blog post the difficulty of finding a space, even after raising all the money and perfecting a business plan, as the Bronx's real estate market was buffeted by gentrification and landlords raised eyebrows at the viability of brick-and-mortar bookselling (Noëlle would wave the American Booksellers' Association ABACUS statistics in reply).
Partly as a result of Amelia Zaino's petition, Bronx Borough President Ruben Diaz negotiated a two-year extension on Barnes & Noble's lease, but at the end of those two years the rent went up and Barnes and Noble pulled up stakes, to be replaced by a Sacks Off 5th. ("Though we were paying substantial rents at this location, the property owner has decided to lease the space to another retailer who was willing to pay more," said a Barnes & Noble vp.) Noëlle was saddened, even though she was already planning to open her own competing independent. "Don't get me started on the message this sends to our children," she wrote in a blog post. A B&N customer told The New York Times,
I really do think that there is a preconceived concept that folks that live in the Bronx, they're not interested in reading, or that they are going to steal everything. We are just as interested in knowledge and reading as anybody else. We just don't have the access to the things that the rest of New Yorkers do.

Noëlle's bookstore is a bright and welcoming place, both cheerful and elegant, with a ring of plush sofas beside its inviting wine bar. She has carefully chosen each one of its opening roster of four thousand books, with a special emphasis on work by and about African American, Latinx, and women writers, but a broad mix of other folk too (Oyinkan Braithwaite next to Jane Austen, Damon Young next to Mr. Rogers). The selection is both substantial and fun. Crystal McIntyre, a teacher who grew up in Queens, bringing some of her students to a pre-opening launch of Lilliam Rivera's young-adult novel Dealing in Dreams, told Anne Branigin of Teen Vogue, "When I was in school, I did not feel like having something like this was even possible. And even if it did exist, I didn't think it was for me. I didn't view myself as a reader. I didn't view myself as many things…" For McIntyre, writes Branigin, it was important for the girls to know this space was for them.
There is abundant academic research indicating that children suffer when they don't have books around them. As America's neighborhoods become more economically segregated, poorer children become less and less likely to come in contact with a book, much less a bookstore. A recent study by researcher Susan Neuman warned that poor and "borderline" communities in America are becoming "book deserts," with only an occasional coloring book in a dollar store per dozens of children (middle-income neighborhoods having three hundred books per child, from multiple outlets). When Noëlle went on Twitter for the first time, she came across a plea from a stranger, a writer, who had heard about her project, calling upon the borough to embrace it for the good of its children.
It is a scandal that Noëlle has had to take so much risk, to invest her own savings, to struggle for years, to be constantly threatened with defeat, to overcome so many obstacles, to do something for her neighborhood that everyone agrees is a public good, even a vital need, not to mention a pleasure and a succor, when billions of dollars in incentives seem to be available for players who arguably undermine the very values that Noëlle's work upholds. But let's not dwell on the maddening side of this story. Noëlle is about to throw open the doors on a marvelous testament to her vision and to the vitality of the written word and of her neighborhood. If you are anywhere near the Bronx (she's a fifteen-minute train ride from Grand Central!), drop by, take the kids (two words, wine bar), and, when she's open for business, consider putting your dollars to work and doing your online book-buying from the Lit Bar.
---
Book Post is a by-subscription book-review service, bringing to your in-box book reviews by distinguished and engaging writers, plus a few other treats, such as this one, for followers of our free updates and visitors to our site. Please consider a subscription! Or give a gift subscription to a friend! Recent reviews include Calvin Baker on David Blight's Frederick Douglass and Àlvaro Enrigue on Roberto Bolaño. Coming up we have Geoffrey O'Brien on Marvin Gaye and Sarah Kerr on Carlos Bulosan. Visit our archive for more.
Book Post is a medium for ideas designed to spread the pleasures and benefits of the reading life across a fractured media landscape. Our paid subscription model allows us to pay the writers who write for you. Our goal is to help grow a healthy, sustainable, common environment for writers and readers and to support independent bookselling by linking directly to bookshops across the land and sharing in the reading life of their communities. Book Post's winter partner bookstore is Greenlight. Spend a hundred dollars there in person or virtually, send us the evidence, and we'll give you a free one-month subscription to Book Post. And/or

follow us on Facebook, Twitter, Instagram.
If you liked this piece, please share and tell the author with a "like"