On Our Way to Raven Books, Our Spring Partner Bookstore
by Ann Kjellberg, editor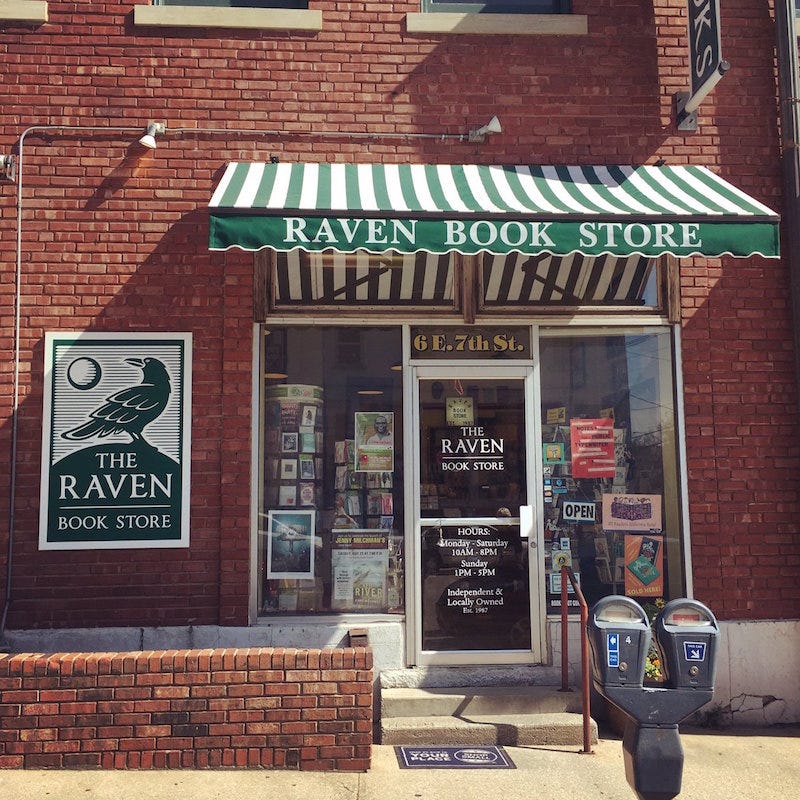 In a couple of weeks we are heading out to visit our spring partner bookstore, Raven in Lawrence, Kansas, for what we hope will be the first in a series of live conversations with local bookstore communities about what they see going on on the world of reading and what they would like to get out of book criticism. Enough about us, we say! But I'll also be ruminating on my own long and grueling/thrilling experience as a book review editor, for many years at the New York Review of Books, working with Bob Silvers, getting my start in the publishing world of the eighties, and how things have changed in the time I've been at it for good and not so good.
Raven as it happens had a viral moment just as I was trying to reach its young owner Danny Caine by phone from a train somewhere on the Hudson River to seal our partnership. He jumped onto the national stage with a tweet patiently explaining to a customer what is really happening when they buy a discounted book. His thread went viral and was picked up a few states away by the Chicago Tribune and an indie bookstore hero was born.
Raven had been founded thirty years before Danny's tweet by two avid local mystery readers, Mary Lou Wright and Pat Kehde, who, naturally, named their passion project after Poe's "ungainly fowl." The pair were not taken seriously by local business leaders, who considered them hobbyists and refused them a traditional bank loan, yet they found a way and their business thrived, making money for every year but one out of a thirty-year run. Lawrence's devoted readers saw the founders through a grievous car accident ("the manager of the Kansas University Bookstore offered to send some of the staff over to help out, for free") and the arrival of a chain outlet across the street (the landlord offered to lower the rent to fortify them against the threat, but they turned him down; the day a Borders opened, in December, the Raven broke all their sales records thanks to solidarity-showing customers doing their holiday shopping; in the event they outlived the chain). "Professors at the university order fairly obscure books for classes, specifically from us because they want the kids to learn about the options in the marketplace," said Heidi Raak, who owned the store for ten years after the retirement of the original duo. "Sometimes I get a little teary thinking about the support we get."
When Heidi was ready to retire herself Danny was already in situ, a graduate student who had come looking for a job. Danny had an epiphany and realized that bookstore life and Lawrence, with its hopping literary culture, were for him. When the chance came to chuck an itinerate teaching career and hunker down in Lawrence and buy the store, he went for it. In the couple of years since he took over, he has focused his attention on creating a bridge between academic and literary life on the one hand and people in Lawrence who may not always feel spoken for or invited into those worlds. "I believe in diversifying representation in what people read and who gets behind microphones in Lawrence," he says. To close the circle, Danny is a poet himself, a writer speaking to readers looking to connect with writers through bookselling.
So for the rest of the spring we will be linking in all our reviews to the Raven, and we encourage you to buy all your books from them too! And we'll be arriving there on June 18, 7 PM, to talk to Lawrentians about how books get reviewed, who decides, how the changing landscape of journalism affects how people learn about new books, what books get a hearing, and what it all means for readers. Visitors will receive a free three-month subscription to Book Post! Come join us if you're in the neighborhood!
---
Book Post is a by-subscription book-review service, bringing book reviews by distinguished and engaging writers direct to subscribers' in-boxes, and other tasty items, like this one, to those who have signed up for our free posts and visitors to our site. Please consider a subscription! Or give a gift subscription to a friend! Recent reviews include Àlvaro Enrigue on Roque Larraquy and Elaine Blair on Sally Rooney. Coming up we have Sarah Kerr on Carlos Bulosan. Other Book Post writers include Joy Williams, Jamaica Kincaid, Geoffrey O'Brien, Calvin Baker, and Edward Mendelson. Visit our archive for more.
Book Post is a medium for ideas designed to spread the pleasures and benefits of the reading life across a fractured media landscape. Our paid subscription model allows us to pay the writers who write for you. Our goal is to help grow a healthy, sustainable, common environment for writers and readers and to support independent bookselling by linking directly to bookshops across the land and sharing in the reading life of their communities. Book Post's spring partner bookstore is The Raven in Lawrence, Kansas. Spend a hundred dollars there in person or virtually, send us the evidence, and we'll give you a free one-month subscription to Book Post. And/or

Follow us: Facebook, Twitter, Instagram
If you liked this piece, please share and tell the author with a "like"