Discover more from Book Post
Bite-sized book reviews by distinguished and engaging writers, direct to readers' in boxes. Editor Ann Kjellberg is a multi-decade veteran of The New York Review of Books and founder of the literary magazine LIttle Star
Over 5,000 subscribers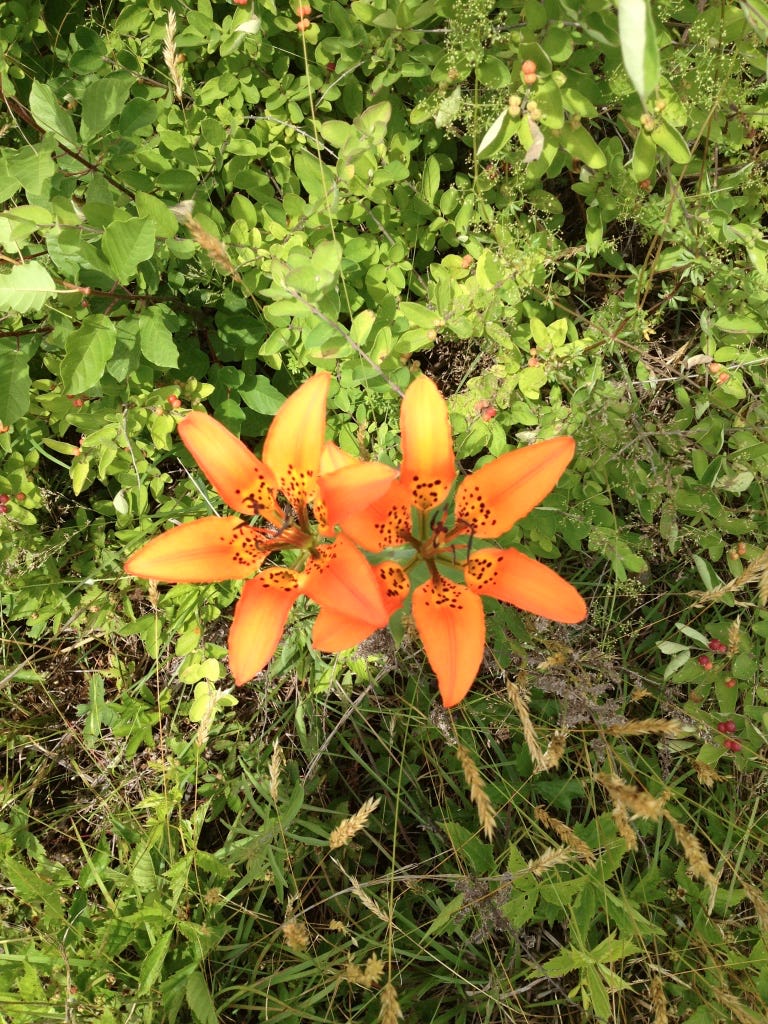 A rare lily to be found on the walk to the Frost house!
---
To Robert Woolmington of North Bennington, Vermont
Robert Frost lived in many places and didn't live in them for very long, but the house he lived in for the longest time was a house in Shaftsbury, Vermont, a lovely old-fashioned modest house made from stone and wood, all of which must have come from the immediate vicinity. You can take a drive up Route 7A in southern Vermont and you will come to it, on the line that divides the city of Bennington from the town of Shaftsbury, if you stay within the speed limit. If not you will find yourself, well, not there.
Every summer, sometime between the last week in June and no later than the Fourth of July, I like to go for a walk through the woods to his old house, which has now been declared to be the official Robert Frost Stone House Museum. In it are all the sort of things you would expect in a shrine to a great poet: pictures on the walls, pictures of the especially great and much revered poem he wrote while living there, "Stopping by Woods on a Snowy Evening"—and annotated at that—and other such things.
Visitors are restricted to the downstairs, excluding the room in which Carol Frost, a son of the poet, killed himself with a gun. Frost's two most prominent biographers, Lawrance Thompson and Jay Parini, disagree about the events that led up to this tragedy, Thompson being frank about Frost's personality, for he knew him well; Frost had designated him his official biographer. The Parini version is meant to be a corrective: the great poet was a horrible husband and father. Robert Frost's father tried to join the wrong side of the Civil War, and, when he was deterred from that, he moved to San Francisco, and when his child was born he named him after the traitor: Robert E. Lee. And so, Robert Lee Frost.
But what I wonder, as I set off from my house to walk the trail to his house/museum, if his father had named him Nat Turner Frost or Frederick Douglas Frost, would his epic, glorious poem "New Hampshire" begin this way?
I met a lady from the South who said
(You won't believe she said it, but she said it):
"None of my family ever worked, or had
A thing to sell." I don't suppose the work
Much matters. You may work for all of me.
I've seen the time I've had to work myself.
The having anything to sell is what
Is the disgrace in man or state or nation.

I once saw Jay Parini and when I told him that I liked his biography a lot, for it was so instructive and far more easy to read than the Thompson, but I thought the Thompson was more accurate about Frost, he said that Thompson had a tin ear for Frost's poetry. But Thompson's account of Frost's life isn't only about the poetry, he seems to take it as a given, something we all know from the beginning: Frost was a great, very great poet, but he was not a nice man. Not being a nice man but a great poet is perfectly fine, as long such a person is not your husband.
The walk to Robert Frost's house begins on the man-made sandy beach of the man-made lake called Lake Paran. Walking around the upper circumference of the lake I encounter many beautiful flowers—some clover, some silene, some centaurea, some achillea—but these hold no real interest for me and when I see them in my own human-made garden I go into a huge fret and rip them out without a thought, for in a garden, they are weeds, which only means I have not yet the intelligence to understand their place in my cultivated landscape, my garden.
The path then forks: the high meadow, which calls for a steep walk up, or the lower meadow, which follows the shoreline of the man-made lake. In the high meadow I have seen a family of bluebirds (there were eight of them, so they seemed like a family to me), and I have seen the outline of the Taconic range rising far away in New York. Onwards then, and the upper and lower meadow converge at a newly made wooden bridge that has two benches for resting, so necessary, for no matter how many times I have done this walk, I am always grateful for the bridge with its benches. Sitting there, I can see trout happily moving about in the stream, innocent of the thought that I might need them for dinner or just the pleasure of saying I caught them. Also on the opposite side of the river, still going towards the Frost house, are tall bundles of Joe Pye Weed (Eutrochium purpureum), taller than any I have ever seen in a cultivated garden, and then beyond that a moist woodland of beeches shading colonies of ginger (Asarum canadense), maiden hair ferns (Adiantum), Actea (baneberry), and skunk cabbage (Symplocarpus foetidus). Right around here suddenly is an outcropping of rock, a cliff all jagged and layered in brown and white stone that I was once told was in the middle of something geologist call uplift.
A short climb up and then on the right is the wetland meadow, then turning right from that is another glorious bit foresting but dry, and then after half a mile or so, a descent into a lower wet meadow, and there I have seen swarths of marsh marigold (Caltha palustris) blooming so seductively that in my mind I have found a place for them in my own garden, though when I have tried to put this vision in front of me, a mere two and a half miles away, the result was a gradual diminishing of the plants and then one year they just did not turn up at all. And this has been true of so many plants I love: I see them in their natural habitat and I immediately imagine them in my own garden and put them there, and then they disappear. And this is why there is such a thing as a plant-order nursery, for many things that thrive happily in the wild will have to be slightly manipulated to thrive in the contrivance of a garden.
This path along the profusion of marsh marigolds is narrow and apparently Frost wandered along during his epic attempts to be a farmer. This farming business is thought to be a failure in his life, but it seems to me that it is one of the most important pieces of his greatness as a poet. A great writer always, mostly, needs to do something that has nothing to do with writing, or so it seems, but that thing they are involved with is the very place in which they write; while farming a poet is writing. Writers go to parties, great writers do something else.
After that walk among the marsh marigolds, a quarter of a mile or so are some younger woods and old apple trees, and apparently this is the source of "Stopping By Woods on a Snowy Evening." The funny thing is that no matter what time of day I pass through this particular path of the walk, it always seems like evening: the path here is tranquil in a way the other parts of the walk are not; here is where I want both to linger and to run at the same time and also wish the woods would tell me whatever memory they have of him.
I went into the house/museum once and then never again. My walk to the Frost house ends in an orchard of apple trees he is said to have planted. The apples are inedible as they should be for they were planted for some other reason than the pleasure to be found in eating them.
Going backwards, going back along the path that has become familiar in your mind's eye, especially if it has been a recent encounter, always seems unfamiliar and so even more frightening for it should be familiar, but the way back is a new way too and will have its own pleasures and anxieties; the pleasure and the terror of going back on any path is always a surprise. Here is a pleasure and a terror: in the second year of my five-mile pilgrimage to the Frost house, while returning home I found growing, in a dry part of the meadow that slopes down towards the stream that feeds Lake Paran, a patch of Lilium philadelphicum; in a large patch of flowers long past bloom were these little heads of open-faced orange (not recurved like L. superbum or L. canadense) popping up here and there. And how did I recognize them? A long time ago my friend Sandy and I took our children to the Canadian part of Glacier Park (see our Diary of last year, about a journey to the American part). It was a disagreeable trip, the children hated all the hiking, and at the border crossing back into the United States the guards suspected us of smuggling children. Sandy was quite agitated, the children were silent, and I was trying to identify the many new flowers I saw in bloom. Suddenly I saw a swatch of reddish orange flowers that I had never seen before and I wanted to examine them but the driver wouldn't stop. Not too far from that first sighting, I saw another batch of these same flowers, and I insisted that we stop not only to look at them but also for me to pick some for decorating the dashboard. We stopped, I picked the flowers, and we resumed our journey to Sandy's family's home in Missoula, Montana. I then got out my little flower guidebook for plants native to Glacier Park, and I soon found it. I read happily of its beauty and rareness, feeling very proud of myself to have noticed it, but then I came to the last sentence and it was more or less this: unfortunately this beautiful plant is in danger of extinction because it has so many thoughtless admirers. Sandy, who at that time was annoyed with my obsession, laughed at me and to this day when I approach something with a dangerous amount of enthusiasm he only has to say, "Thoughtless admirer," and I grow silent.
Nothing on the walk to and from the Frost house stirs in me such a feeling of what is known as the sublime as seeing the Lilium philadelphicum. The thing is I only see them on my return and each year I am surprised that they remain. Sometimes there are more of them than the year before, and sometimes there are fewer. When I see fewer of them, I wonder about the other thoughtless admirers and pray there are not many of them.
---
Jamaica Kincaid is the author of nine books of fiction and memoirs, as well as two books about gardening and plants: My Garden Book and Among Flowers: A Walk in the Himalaya. This is the second in a series of gardening diaries for Book Post. Read the first one here.
Book Post is a by-subscription book review service, bringing to your in-box book reviews by distinguished and engaging writers, plus a few other treats, such as this one, for followers of our free updates and visitors to our site. Please consider a subscription! Or give a gift subscription to a friend!
Recent reviews include Joy Williams on Richard Powers and Adam Kirsch on rabbinic law. Coming up we have Alvaro Engrigue on Roberto Bolaño and Robert Cottrell on John McPhee. Visit our archive for more.
Book Post is a medium for ideas designed to spread the pleasures and benefits of the reading life across a fractured media landscape. Our paid subscription model allows us to pay the writers who write for you. Our goal is to help grow a healthy, sustainable, common environment for writers and readers and to support independent bookselling by linking directly to bookshops across the land and sharing in the reading life of their communities. Book Post's winter partner bookstore is Greenlight. Spend a hundred dollars there in person or virtually, send us the evidence, and we'll give you a free one-month subscription to Book Post. And/or

follow us on Facebook, Twitter, Instagram.
If you liked this piece, please share and tell the author with a "like"