Diary: Patricia Storace, The Greatest Food Writer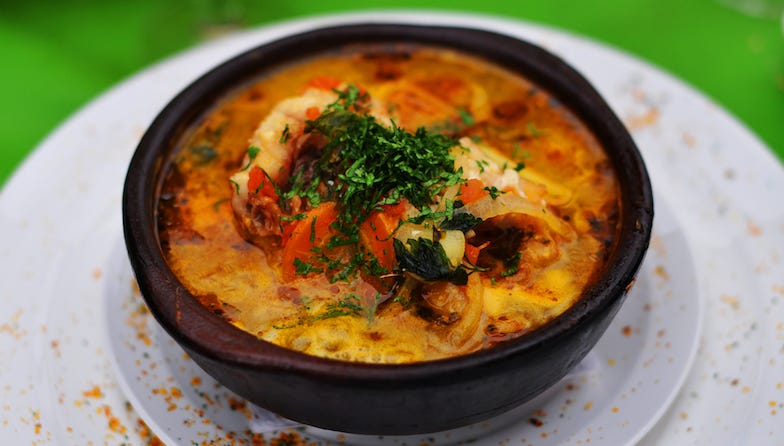 "In the chowder are warmed the essences of Chile," Pablo Neruda
Every writer who tells stories through food satisfies a particular appetite in a reader. To do so a writer has to search for ways to write about food freely, vitally, and memorably beyond the familiar pattern of personal anecdote and formulaic presence of recipes.
There are the autobiographers, like M.F.K. Fisher (who refused to be called a "food writer") and Gabrielle Hamilton, whose memoirs of an American chef's coming of age give us ways to look more fully at the place of food in our lives, not in idyllic memories only, but present in the bitterest moments. There are philosophers like Brillat-Savarin, whose 1825 masterwork The Physiology of Taste explored what we are thinking when we are eating. There are culinary geologists, like Patience Gray, whose writing about Mediterranean food shows us how food can make us experience antiquity, sharing a past that isn't our own. There are urban anthropologists like Grimod de La Reynière, the first chronicler of restaurants, who left us a vivid gastronomic record of late-eighteenth- and nineteenth-century Paris. Betty Fussell's delightful and defiant My Kitchen Wars is a political document of her struggle to write literature involving food when it was considered a trivial feminine subject; her Harvard-professor husband described her writing as "silly." There are the portraits of childhood seen through the prism of food, like Madhur Jaffrey's Climbing the Mango Trees, and histories of families, like Norma Jean Darden's Spoonbread and Strawberry Wine. Darden's description of shoebox picnics, the picnics African-Americans packed for car trips when hotels, restaurants, and bathrooms were reserved for "whites only," record how cooking can confront fear and deprivation with hospitality and pleasure.
Each of these writers offers something irreplaceable, though when pressed to name my favorite food writer, the one most essential to me, I can only answer: Pablo Neruda. No westerner has written more thrillingly about food than the Chilean poet, in great still lives made not of brushstrokes but of words.
Neruda, along with the Guatemalan poet, Miguel Asturias, wrote a book of considerable (and sometimes irritatingly self-conscious) charm about Hungarian food, Eating in Hungary (Neruda's contributions are marked with a fork, Asturias's with a spoon), but it is the presence of eating threaded through his poems, especially in the two hundred and sixteen odes he wrote between 1952 and 1959, that created an utterly new way of writing about food, beyond personal history. The odes began as commissions to write a weekly column of poetry for a newspaper, which Neruda was promised would appear on the main news pages, not the arts section. The poems are a kind of anthology of what Neruda is living and experiencing: there are odes to cats, socks, individual friends, trees, political events, ships' figureheads, and food, though Neruda's quotidian world is no more mundane than William Blake's cottage at Felpham, visited by angels. Every day is infinite in Neruda's odes.
The artichokes, onions, French-fried potatoes, watermelons, olive oil, tomatoes, of Neruda's poems are described as if they were a primal language from which he is translating: the words that made the world, the gateway through which poetry first enters the earth. Food is older than we are, and it will outlive us, likewise poetry is a form of speech older than the book. Eating for Neruda becomes a way of speaking, and speech a means of eating. The great poet Federico Garcia Lorca described Neruda as "one of those who senses are trained to a world that is not ours and that few people perceive." Neruda's odes prove that.

Would you like to get a review from Book Post in your in-box every few days?
Subscribe for $5.99 a month, $45 a year
We support books & bookselling, writers & writing, for the digital age

Neruda's salt is "the dust of water … a kiss from the marine night." His lemon is "the ray of light that becomes fruit." Neruda's spoon, like the essence of a hand abstracted in a Brancusi sculpture, is a companion:
… spoon … at mankind's side
you have climbed mountains
swept down rivers
populated ships and cities, castles and kitchens
but
the hard part of your life's journey
is to plunge
into the poor man's plate
and into his mouth.
His apples taste of genius, preserving the flavor of the tree of knowledge: "You're always new like nothing else or no one, always as if just fallen from Paradise …" Here is the miracle of flavor, like a song that can be sung again and again, always and never the same.
Neruda's food retains its anatomy: A potato is "compact like a cheese produced by the soil," and he notices, "You're not from Castile: / you're dark / like / our skin / we're Americans / spud / we're Indians …" He captures food as it is served: French fries, in their tantalizing uniformity, "a repetition of abundance" on the plate. And in the process of being cooked: as sliced onions fry "in the blazing heat of the oil / the shred of crystal / is transformed into a curled feather of gold."
His "Ode to Conger Chowder" is a perfect recipe, offering not only a guide to how the dish is made, but also to what its flavor means: "Then slowly deliver the treasure to the flame, until in the chowder are warmed the essences of Chile, and to the table / come, newly wed / the savors of land and sea." Neruda's food metamorphoses, as it changes us: a watermelon, "green whale of summer" becomes "weightless … in the all-embracing siesta …" Bread is formed through elemental passion, the "joining of seed and fire," and becomes a pregnancy containing us, "growing growing … like hips, mouths, breasts … or people's lives … you are … the will to live itself." Wine becomes memory, song, conversation, and love-making. The food on the table, transformed into poetry, becomes a vision of an abundant world where all are fed, the only place this has yet happened.
And what cook doesn't dream of setting this table, where we "weep without suffering," as when chopping an onion, and we taste heaven together, while the work of one's hands enters another's body so intimately that it is transformed into the rhythm of its heartbeat?
---
Patricia Storace's most recent book is the novel The Book of Heaven, in which the intimate histories of eating and storytelling are also deeply entwined. She is also the author of Dinner with Persephone: Travels in Greece and a book of poems, Heredity. This is the fourth in her series on cooking and reading for Book Post. Read the first, second, third, fifth, and sixth here.
Book Post is a by-subscription book-review service, bringing short book reviews by distinguished and engaging writers direct to subscribers' in-boxes, and other tasty items celebrating book life, like this one, to those who have signed up for our free posts and visitors to our site. Please consider a subscription! Or give a gift subscription to a friend who might be drawn into the reading life. Recent reviews include John Banville on Robert Macfarlane and Marina Warner on Margaret Atwood. (See all our reviews here.)
Mac's Backs Books on Coventry, in Cleveland, Ohio, is Book Post's autumn partner bookstore. Please buy your books from them this fall. We support independent bookselling by linking to independent bookstores and bringing you news of local book life as it happens in their aisles. We'll send a free three month subscription to any reader who spends more than $100 at our partner bookstore during our partnership. Send your receipt to info@bookpostusa.com. And/or
Follow us: Facebook, Twitter, Instagram
If you liked this piece, please share and tell the author with a "like"
Photo: "Caldillo de Congrio (Congor stew) at Las Rocas in Iquique Chile," by James on
Flicker