Discover more from Book Post
Bite-sized book reviews by distinguished and engaging writers, direct to readers' in boxes. Editor Ann Kjellberg is a multi-decade veteran of The New York Review of Books and founder of the literary magazine LIttle Star
Over 5,000 subscribers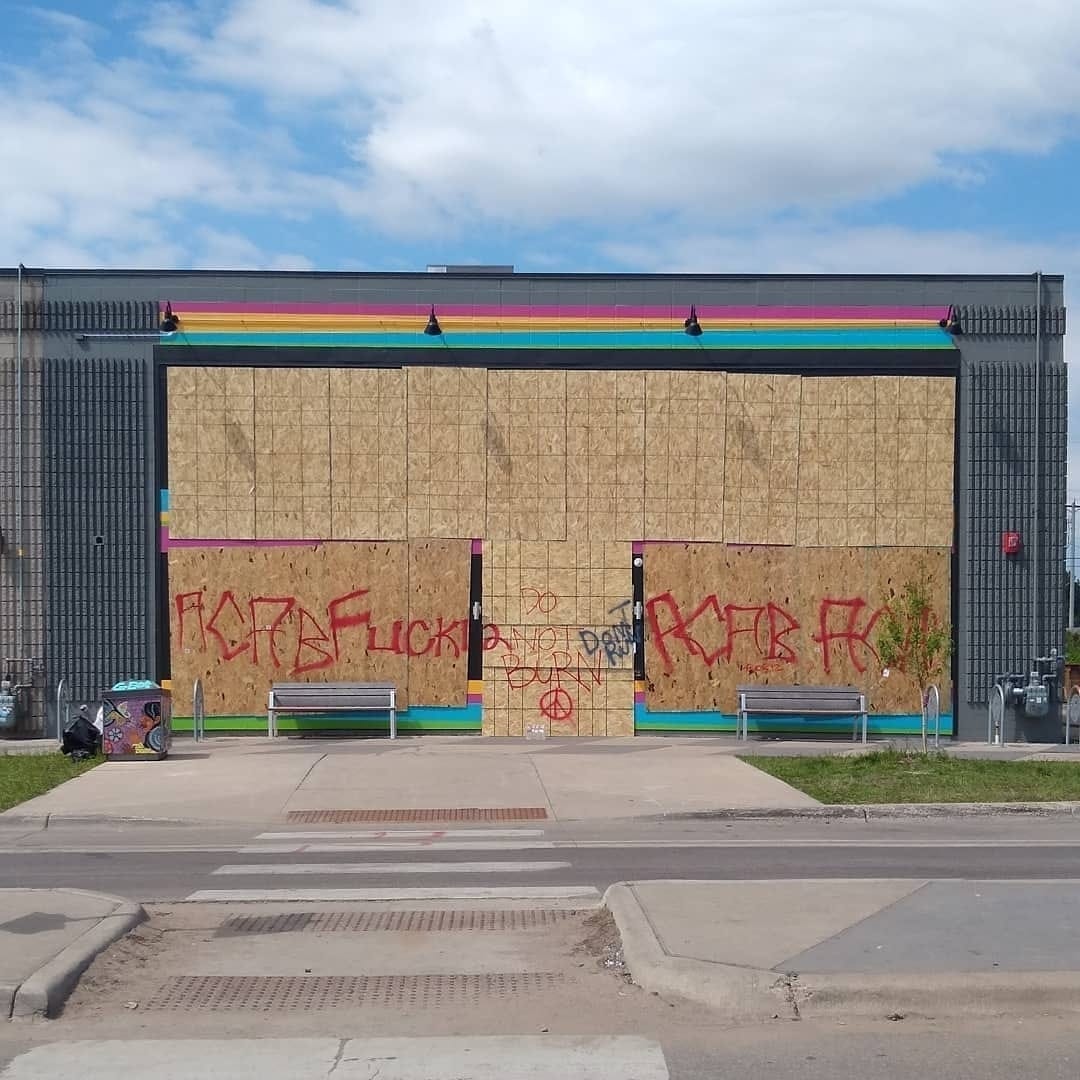 Moon Palace Books, 3032 Minnehaha Avenue, Minneapolis, Minnesota, on Saturday afternoon,
via Twitter

Minneapolis, which has been dominating our screens and thoughts the last few days, has as it happens been the site of something of a literary flowering in recent years. It is home to three of the country's most celebrated small publishers: Graywolf Press, Coffee House Press, and Milkweed Editions. Milkweed is also an independent bookstore, one of many in the Twin Cities, including two founded by distinguished literary figures: novelist Louise Erdrich's Birchbark Books and Next Chapter, which was formerly Garrison Keillor's Common Good (Keillor sold it last year to Nicholas Ballas). The guild has rallied as its members find themselves on the front lines of the week's unrest. Uncle Edgar's Mystery Bookstore and Uncle Hugo's Science Fiction Bookstore (said to be the oldest independent science fiction and fantasy bookstore in the country) burned to the ground on Friday night (read an account by owner Don Blyly and the many tributes appearing on Twitter). Magers and Quinn was one of the few stores on its block that was not broken into on Wednesday night. The stock of the St. Paul antiquarian bookstore Midway Books was damaged, possibly irretrievably, by smoke from a burning neighboring liquor store. The Dreamhaven comics bookstore was broken into on Tuesday: owners welcomed volunteers to help them clean up.
And then there is the ongoing saga of the beloved independent Moon Palace, which is less than a block from the Third Precinct building that was evacuated and burned down on Thursday. Moon Palace survives; its co-owner Angela Schwesnedl posted a photo (above) of its boarded-up facade Saturday morning, writing, "This is hard." The owners had prevented the police from using their parking lot as a staging area (Publishers Weekly received a video clip showing "a standoff with a line of police officers in the street in front of the bookstore blocking protesters") and given out food from its adjoining café to demonstrators and emblazoned the storefront with slogans supporting their cause. Although they urged supporters on Twitter not to "put yourself at risk to protect the store," they told Publishers Weekly protesters were imploring other protesters "not to burn down the bookstore, not to burn down the library" nearby. (The bus stop in front of the library was graffitied with the words "Fund libraries, not cops.")

Support our work:
Subscribe to receive a little book review every few days in your in-box
Or receive our free updates
We support books & bookselling, writers & writing, for the digital age

Red Balloon, across the river in St. Paul, has been sending tweets of solidarity, encouraging customers to buy books from Moon Palace and applauding them for "working hard to keep the community fed and safe." While lamenting the destruction, Moon Palace, Red Balloon, Graywolf, Milkweed, and Coffee House have voiced solidarity with the protestors and encouraged followers to support organizations like the Minnesota Freedom Fund, Black Visions MN, Reclaim the Block, Visit Lake Street, and GoFundMes (here and here) for the family of George Floyd, the man who died on May 25 at the hands of Minnesota police, as well as local food pantries (here and here).
I phoned our bookstore partner Carlos Franklin of Black Stone Bookstore and Cultural Center in Ypsilanti, which has been seeing separate protests responding to an incident of police violence there. Carlos told me that their operations had not been affected, and we talked a bit about the conflicting narratives running through protesting cities—is destruction the only recourse when nonviolent resistance is ignored, or is it the work of bad actors, whether local or imported, and whether perhaps his work running an African-American bookstore, if less headline-making, has something to offer the prospects for long-term change. Carlos had posted on Black Stone's social media that "The top five selling books on blackstonebookstore.com the last few days have been: How to be an Antiracist; White Fragility; Me and White Supremacy; So You Want to Talk About Race; and The New Jim Crow." I was reminded how one of our previous partners, Left Bank Books in St. Louis, had developed a "Ferguson Reads" monthly reading group in the wake of demonstrations following the killing of Michael Brown in 2014, to "give the community a place to come together to read and discuss literary and historical works on race and the Civil Rights Movement." Red Balloon has also posted a "be anti-racist" reading list for children and tweeted a call to patronize black-owned bookstores as a response to the crisis. As Carlos wrote on Facebook, "This bestseller list is a sign of hope for humanity, and at the same time, not nearly enough. This was a painful week for our country..."
On Friday Sarah McNally, owner of the constellation of New York City bookstores McNally Jackson, published an op-ed in The New York Times saying that high rents were the most likely thing to kill off her bookstores. We've argued that lower costs around the country have created the opportunity for more adventurous book enterprises, benefitting both their local and the larger reading culture in ways we are seeing this weekend in Minneapolis and Ypsilanti. These enterprises are now facing an existential economic threat. The story of Minneapolis bookstores paints in dramatic colors both the vulnerability of our book communities and what they offer us as a forum for solidarity and mutual understanding.
There were reports that so many people showed up to clean up Minneapolis's Lake Street retail district that there was not enough for them to do.
Read a dispatch from Minneapolis by Book Post contributor Hugh Eakin.
---
Book Post is a by-subscription book review service, bringing short and well-made book reviews by distinguished and engaging writers direct to your in-box. Subscribe to our book reviews and support our writers and our effort to grow a common reading culture across a fractured media landscape. Among our reviews: Joy Williams on Richard Powers, Àlvaro Enrigue on Roberto Bolaño, Michael Robbins on Allen Ginsberg, Marina Warner on Margaret Atwood.